👉🏼Get ready for Homecoming Week!!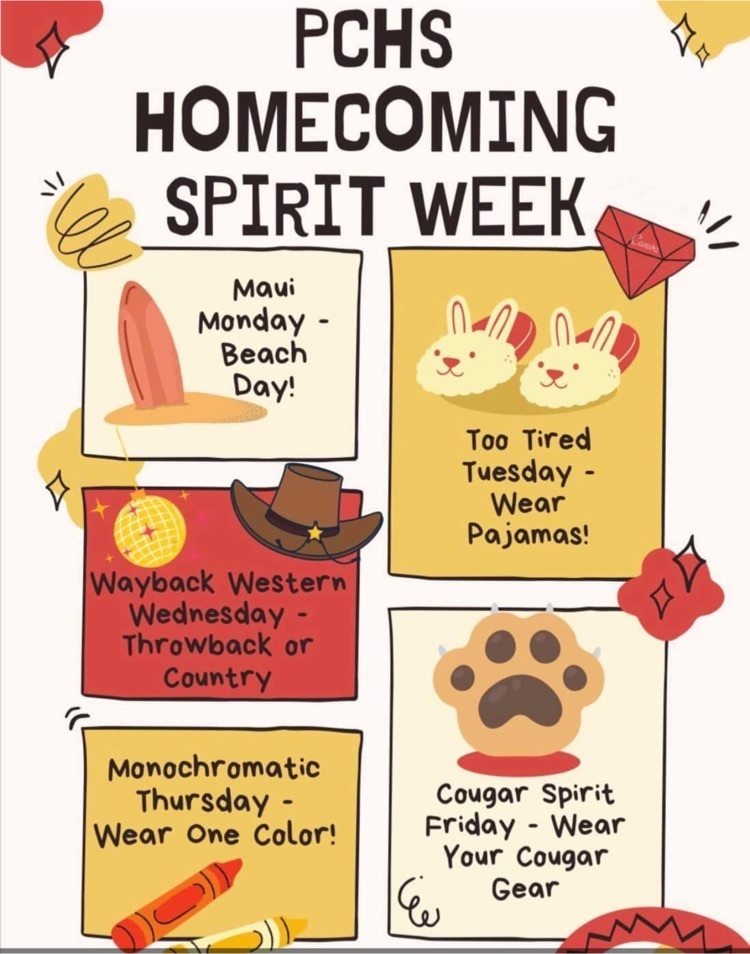 📣📣📣A big shout out to Mr. McCoy's third block class!! Yesterday every single student virtually attended class! Congratulations!! You definitely showed your Cougar PRIDE! 🐾🐾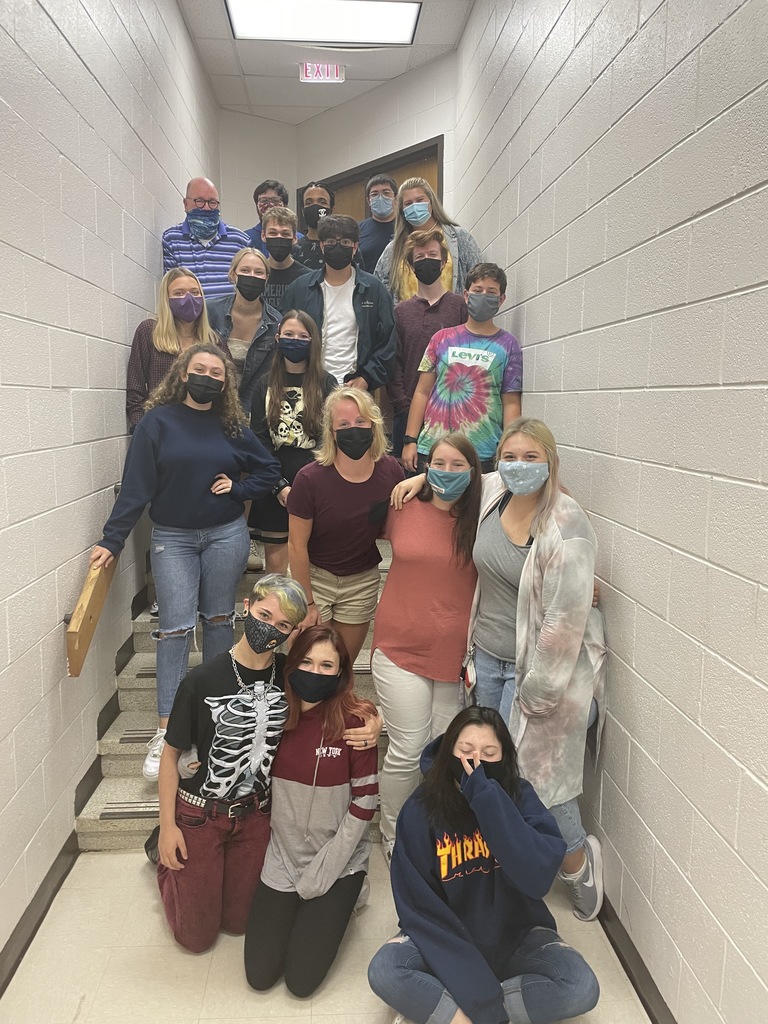 Are you interested in working for Pulaski County Public Schools? Do you have Accounting Experience? If so, please see the opening for an Accounting Assistant in the Finance Department.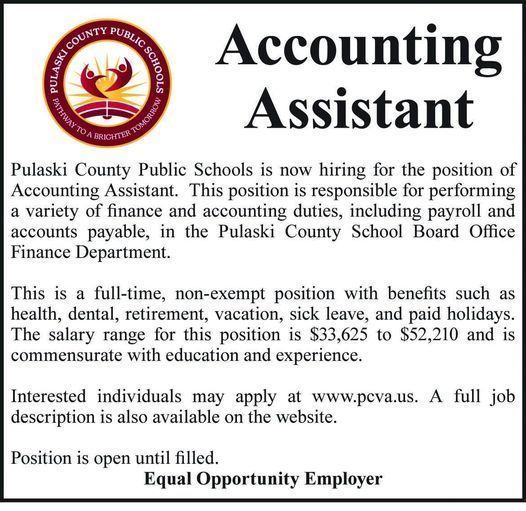 🐾🐾All COVID vaccination forms are due to the school nurse TOMORROW, if your student will be participating in the COVID vaccination clinic on Thursday, September 16th. 🐾🐾

📸📸Reminder: Picture day is Wednesday!! Forms were sent home last week. If you did not receive a form, please see Mr. Harding in the English Pod.

🐾🐾PCHS EVENTS 9/13/21-9/17/21🐾🐾 Monday 09/13/21 🏌️‍♂️Golf: River Ridge Match @ Hunting Hills 2 pm Tuesday 09/14/21 🏐Volleyball: Patrick Henry @ Pulaski Co. JV @ 5:30, Varsity to Follow Wednesday 09/15/21 🏐Volleyball: Pulaski Co. @ Hidden Valley JV @ 5:30, Varsity to Follow Thursday 09/16/21 🏌️‍♂️Golf: @ Radford (River Course) 2 pm Friday 09/17/21 🏈Varsity Football: OPEN

✨✨The Student Council Association is pleased to announce our plans for Homecoming 2021. Please join us for an "Evening Under the Stars" on Friday, September 24. We will open the gates at 9PM and dance the evening away until midnight. This will be an outdoor event with a rain date scheduled on Saturday, September 25. Tickets are $5 and will go on sale on Monday, September 20th. Spirit Week will be September 20-24 and themes are being decided as we speak. We hope those will be announced by Tuesday morning. The Cougar Crazies theme for Homecoming night is "Fashionista Friday", where you choose whichever dance attire you want! Any student wishing to attend must be in Good Standing. Any student wishing to bring a non-PCHS student will need to fill out an application from the main office. We are so thankful to be able to host Homecoming again and can't wait to see all students there!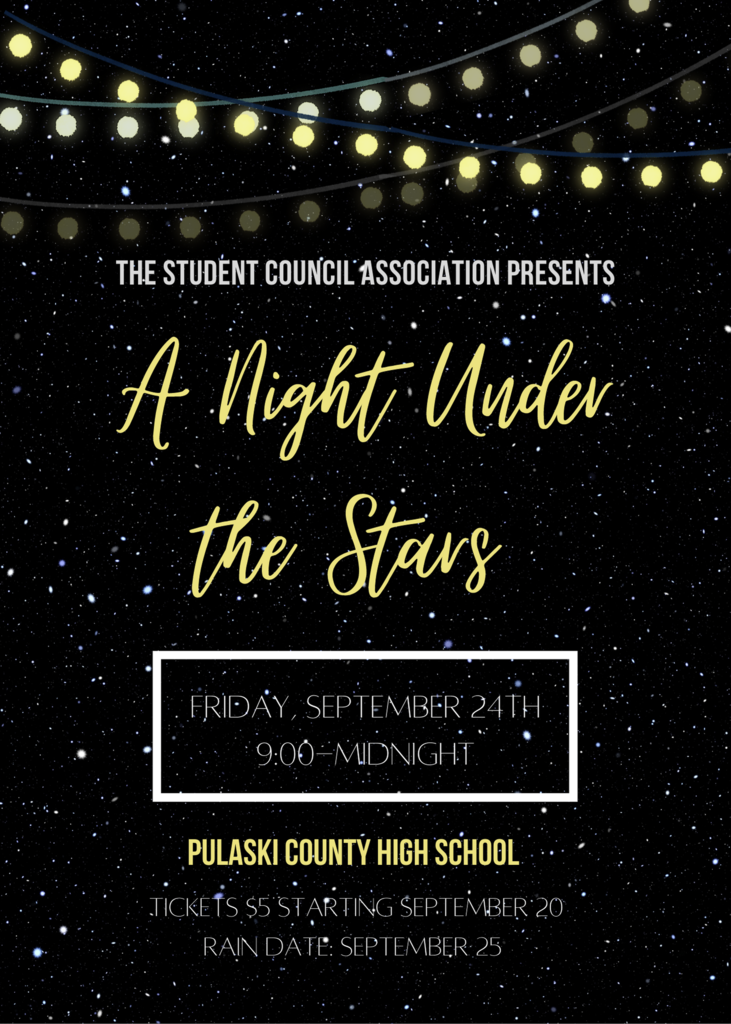 🏈🏈Pulaski Co. has been fortunate in finding a replacement game for this Friday (09/10/21). Pulaski Co. will now host James Wood High School out of Winchester this Friday at 7:00 pm. James Wood is a member of the Northwest District and Region 4C, James Wood has enrollment of 1,500. Sincere thanks to the James Wood Administration for working with PCHS to make this game possible. Below are the details. Friday 09/10/21 Varsity Football: James Wood @ Pulaski Co. 7:00 PM 🏈🏈

👉👉🏈🏈Bluefield High School contacted PCHS a few moments ago to make us aware that due to COVID issues within the Bluefield program they are unable to play football this week (Friday or Saturday) and the game has been canceled. Pulaski County is actively exhausting all avenues to secure a home football game for this Friday (09/10/21) or next Friday (09/17/21). We appreciate the community support we have received at both of our away games to open the season and look forward to playing in the "Cougar Den" soon!!

👉👉The last day to turn in Flu vaccine consent forms or Covid vaccine consent forms is tomorrow, Tuesday, September 7th. These vaccines are 100% voluntary and will be provided by the health department, during school, on a date to be determined. We will send out information about the date when that is available. Please remember to provide a copy of your insurance card, if you have insurance. Forms are to be turned in to the school nurse.

🦷🦷The Community Health Center of the New River Valley is sponsoring preventive dental services at PCHS!

🏈🏈Any Pulaski County fans planning to travel to the game on Friday must purchase tickets through GoFan. *TICKETS WILL NOT BE AVAILABLE FOR PURCHASE AT THE GATE! Here is the link to the JF GoFan account:
https://gofan.co/app/events/385086?schoolId=VA7532

🏈🏈Pulaski County High School will travel to Jefferson Forest High School to play Varsity Football this Friday (09/03/21). Sincere thanks to Jefferson Forest HS for working with us to make this possible! Below are the details. 🐾Friday 09/03/21 Varsity Football: Pulaski Co. @ Jefferson Forest 7:00 PM

🏈🏈🏈The Pulaski County High School Varsity Football game scheduled for this Friday (09/03/21) at Tennessee High School in Bristol has been canceled due to COVID issues with Tennessee High. We are actively seeking a possible opponent to replace Tennessee High, if a game transpires we will get that information out immediately. 🏈🏈🏈

💍🐾🐾The Jostens class ring representatives will be at school on Thursday September 2nd for the class ring delivery day. They will be set up in the cafeteria during all lunches to deliver class rings. If paying on delivery day, balances must be paid with cash or money order as no checks will be accepted. It is encouraged to pay your balance before delivery day either online or by calling 1-800-JOSTENS.

👉👉Deadline for Health Information Forms is Friday, September 3rd, 2021. This form is required for all students. Any student lacking a Health Information Form will not be allowed to participate in extracurricular activities or sports.

🚍🚍All buses are running on time this morning. Any student arriving after 8:30 a.m. we ask that you please enter through the front office doors for safety purposes and to ensure attendance is properly recorded.🚐🚌🚍

👉Events 8/23-8/27/2021 Monday 08/23/21 🏌️‍♂️Golf: River Ridge @ Patrick Henry (Roanoke Country Club) 1 pm 🏐Volleyball: Floyd @ Pulaski Co. JV @ 5:30, Varsity to Follow Tuesday 08/24/21 🏐Volleyball: Giles @ Pulaski Co. JV @ 5:30, Varsity to Follow Wednesday 08/25/21 ⛳Golf: @ Carroll Co. (Old Mill) 2 pm Thursday 08/26/21 🏈JV Football: Northside @ Pulaski Co. 6 pm 🏐Volleyball: Carroll Co. @ Pulaski Co. JV @ 5:30, Varsity to Follow Friday 08/27/21 🏈Varsity Football: Pulaski Co. @ Northside 7 pm

Lord Botetourt HS is unable to host tonight's JV Football scrimmage due to unplayable field conditions. Below are the details. Thursday 08/19/21 JV Football Scrimmage: Pulaski Co. @ Lord Botetourt CANCELED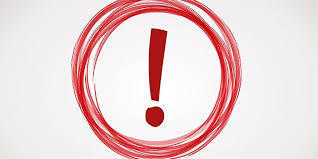 Make plans now to come and support the PCHS Theatre Department as they perform "SpongeBob SquarePants: The Musical." For show times and ticket pricing, please see the attached flyer.