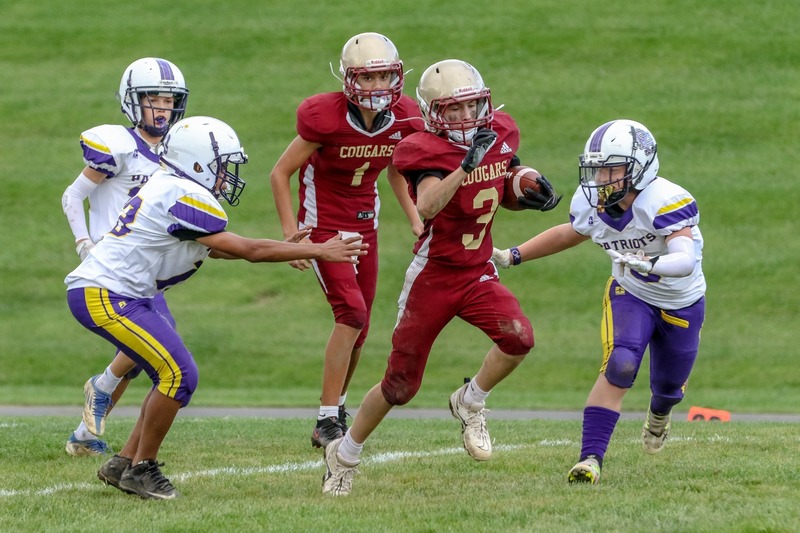 (Brock Schneider rumbles through the defensive line for a score)

The Pulaski County Middle School Cougar football team moved to 3-0 on the season Wednesday with a dominating win over a large Patrick Henry squad at Kenneth J. Dobson Stadium.
After a scoreless first quarter, the Cougars struck early in the second. With 6:08 remaining in the half, Kaleb Sartin pounded the ball across the goal line from four yards out. He finished the drive off by running the two-point conversion in, putting the Cougars up 8-0.
Head Coach Hunter Thomas and his crew never looked back and took advantage of every opportunity presented them. With 44 seconds left in the half, Sartin scored again on a nine-yard run. His two-point conversion run put the Cougars up 16-0.
A solid defensive effort and good use of timeouts forced a Patrick Henry punt attempt, which was partially blocked. With excellent field position and time running out, Sartin scored his third touchdown of the night with a five-yard run as time expired. The two-point conversion attempt failed, leaving the Cougars up 22-0 at the halftime break.
Pulaski County started the second half the way they ended the first. With 7:47 remaining in the third, Brock Schneider broke free for a 64-yard trot to the endzone. The failed conversion left PCMS up 28-0.
Just over five minutes later, Schneider struck again. This time it was an 18-yard touchdown run. With 2:07 left in the third quarter, Mattox Thompson carried the ball into the endzone for the two-point conversion. That moved the score to 36-0 for the Cougars.
With time quickly fading, Coach Thomas and his staff played everyone. Patrick Henry finally managed to cross the goal line from eight yards out with 52 seconds remaining in the game. Their two-point attempt failed, leaving the Cougars with the 36-6 victory.
Pulaski County earned 12 first downs in the game. The Patriots had six. The Cougars ran the ball 24 times for 240 yards. Patrick Henry ran 23 times for 97 yards and completed two of seven pass attempts with one interception for 43 yards, giving them 140 yards of total offense.
The Cougar ground attack was led by four players. Schneider had six carries for 124 yards and two scores. Sartin ran 10 times for 71 yards and three scores. JD Grubb ran five times for 42 yards. Maddox Thompson ran twice for three yards.
The score was almost higher. A Patriot player was running with the ball as several Cougar defenders closed in on him. Caleb Cregger alertly stuck his hands in and ripped the ball loose, taking it to the house from around midfield. Unfortunately, a blocking in the back penalty negated the score.
Schneider also stole one from the Patriots, intercepting a pass attempt.
The PCMS Cougars are scheduled to be back in action Thursday, September 15, at home against the Christiansburg Blue Demons,