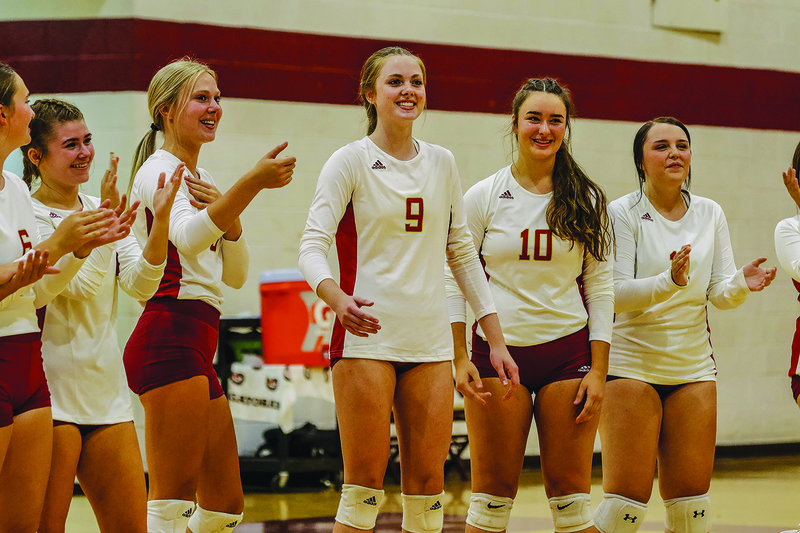 Junior Hanna Keefer (9) broke the career record for blocks this week.
The Lady Cougar volleyball team has taken a few lumps along the way, but have started showing improvements as they moved their season records to 2-5 overall Wednesday.
Some of their recent games have been against very tough opponents. A matchup with Carroll County saw the Lady Cougars fall in three sets, 12-25, 24-26, and 18-25.
Laci Armes recorded three kills. Hannah Keefer had six kills and three blocks. Josey Smythers had four kills, five digs and two aces.
The junior varsity contest was a fight, but ended with Carroll County winning two sets to one by the scores of 16-25, 29-27, and 11-15. Emma Sarver had 11 assists. Alexis Dishon had three kills and five digs.
Fast forward to September 6 and the Lady Cougars were playing against Christiansburg. JV and varsity both lost their matches to the Blue Demons.
For the varsity, it was three sets with the scores of 19-25, 8-25, and 19-25. Hannah Keefer had 11 kills, two blocks, and 12 digs. Laci Armes had six kills and 11 digs. Leah Keefer had 20 assists and eight digs.
The JV squad also fell to Christiansburg. The match scores were 13-25 and 9-25. Saver had 11 digs. Makenna Yates had five kills and nine digs.
Hannah Keefer also reached a new benchmark for her career against the Blue Demons. Her two blocks established a new career record for blocks that was previously held by Kelsey Hancock. The previous record for blocks was 123. Keefer, a junior, set the new record at 125 with this season and next season to go. Keefer was recognized before the Wednesday game against William Fleming.
Against the Colonels, the JV and varsity squads each enjoyed a win Wednesday.
For the JV squad, it took two sets with scores of 25-8 and 25-9. Kahlan Dishon had three kills. Makenna Yates had one kill and six aces. Caroline Bishop had four kills.
For the varsity, the three-set sweep featured scores of 25-9, 25-15, and 25-4. Hannah Keefer led the way with 16 kills and six aces. Josey Smythers had four kills and four aces. Laci Armes had five kills. Leah Keefer had 22 assists and four aces.
The Lady Cougars are scheduled to play at Giles Monday, Sept. 12. Tuesday, Sept. 13, will find them at Patrick Henry. Thursday, Sept. 15, the Lady Cougars will host Hidden Valley. JV action begins at 5:30 p.m. followed by the varsity games at 7 p.m.