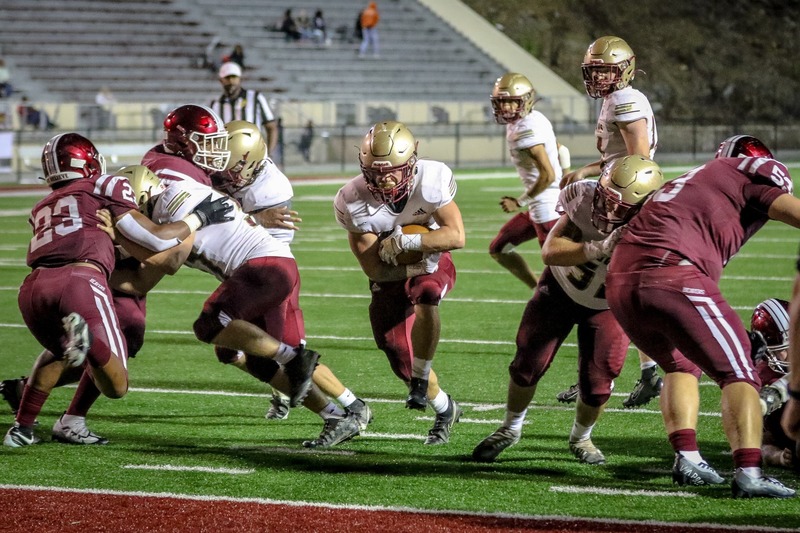 (Senior running back Trevor Burton found the endzone five times Thursday in Bluefield)
Anytime you have less first downs, less total yardage, a turnover, and more than triple the penalty yardage of your opponent, it's hard to imagine a good final outcome. That happened Thursday night at Mitchell Stadium in Bluefield, however, as the Cougars overcame the odds to win 35-33.
"No question it was ugly, but we'll take the win," Cougar Head Coach Cam Akers said. "We had to overcome some things out there tonight, including some big mistakes on our part. Overall, I'm happy with the effort we put out and the way we kept battling back. We've got a lot of things to work on still, but our guys are willing to work and try."
Senior running back Trevor Burton put his name in the record books with five rushing touchdowns, tying the current record for rushing touchdowns in a game held by Craig Hodge (vs William Fleming, 1996), Kwasi Scott (vs Cave Spring, 1998), Frank Cobbs (vs Salem, 2000), and Kevin Crouse (vs Franklin County, 2004).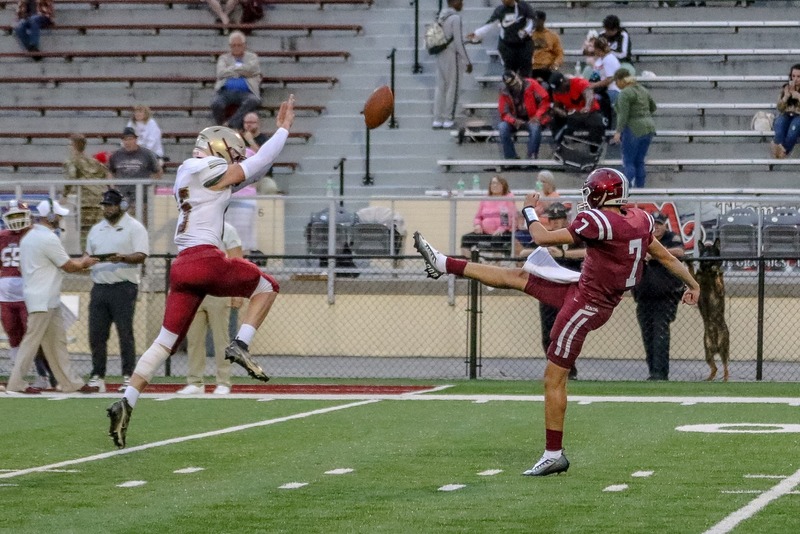 After an exchange of punts to open the game, with another tipped punt gave the Cougars outstanding field position, Pulaski County began to grind the ball down the field. Burton, quarterback Christopher Gallimore and junior Brett Jones carried the mail for the Cougars, covering 39 yards in seven plays. The score came on a three-yard attack up the middle by Burton with 4:11 remaining in the first quarter. Nathan Pratt was good on the kick after, giving the Cougars the 7-0 lead.
After a short kickoff, the Beavers put their offensive unit in gear. Starting at their own 37-yard line, Bluefield covered 63 yards in 14 plays. Amir Julik Hairston crossed the goal line with 11:19 remaining in the second quarter on a nine-yard run. The successful PAT tied the score at 7-7.
Yellow flags began to fall against the Cougars, and Pulaski County punted. Bluefield went to the air this time, with a a 42-yard touchdown pass from Caleb Fuller to RJ Hairston with 9:03 remaining in the half. Two minutes later, Amir Hairston scored on a 13-yard run. The point after attempt failed, leaving the Beavers up 20-7 with 7:06 remaining.
Then Pulaski County woke up. Despite what seemed like several missed or questionable calls, the Cougar offensive line gave Burton and crew lanes to run through. On second down and seven, Burton broke free up the middle and raced 46-yards to the endzone. Five minutes later, he topped off with a two-yard push into the endzone after a 10-play drive that covered 70 yards. Pratt was good on the PATs, giving the Cougars a 21-20 advantage heading into the halftime break.
"Getting that touchdown before halftime was big for us," Coach Akers said. "Our kids were up against a lot of things, but they kept working. Sometimes, you've just got to show a little toughness and just keep going. I think we're learning that."
Bluefield got the ball to start the second half, but after earning one first down they were forced to punt. Taking over near midfield, Gallimore, Jones and Burton continued to pound the Bluefield defenders. It took eight plays to reach paydirt. Burton carried the ball in from three yards out with 7:26 remaining in the third. The PAT by Pratt put the Cougars up 28-20.
Bluefield answered, with the help of one 15-yard personal foul penalty and another play that resulted in six total personal fouls, three for each team, and one player ejected from each team. The score came on a 17-yard pass from Fuller to RJ Hairston with 5:37 remaining in the third.
Once again, the Cougars rose to the occasion. A short punt by Bluefield gave the Cougars the ball at the Beaver 40-yard line. Gallimore carried four times in a row, moving the ball to the 16-yard line. Burton took care of the rest, busting through several would-be tacklers who simply could not stop the Cougar senior. Pratt hit the PAT to put the Cougars up 35-26.
Bluefield struck again with 8:55 remaining in the game. Fuller hit Sencere Fields on a 25-yard passing touchdown. The kick moved the score to 35-33.
Yellow flags continued to fall against the Cougars, aiding the Beavers in moving the ball downfield. On fourth down and long, Fuller threw an incomplete pass to give Pulaski County the ball.
Gallimore ran for two yards, then Burton added two more. Sophomore Tanner Mace picked up four yards on third down, leaving Pulaski County with a fourth and two to go. The Cougars lined up to punt, but ran a fake with junior Tyler Underwood gaining six yards to earn the biggest first down of the game. Gallimore took a knee to end the game.
"I'm proud of our guys," Coach Akers said. "We kept our composure for the most part all night. That's tough sometimes, especially when things are going against you. We can't be focused on all that. We need to focus on us, our execution, and taking care of each play as it happens. This was a good win for us. We'll take a day or so to rest up, do some things during our bye week to get our house in order, then start getting ready for Cave Spring. Right now, we're going to take a second and enjoy this win."
Statistically, it wasn't the greatest night for the Cougars. Pulaski County gained 20 first downs, compared to 23 by Bluefield. The Cougars ran 55 times for 333 yards and completed one of three pass attempts for -1 yard. Bluefield had 27 carries for 65 yards and completed 17 of 34 pass attempts for 274 yards. Total yardage for the Cougars was 332. Bluefield had 339.
The Cougars were hit with 11 penalties for 113 yards. Bluefield had five penalties for just 37 yards.
Burton led all rushers with 25 carries for 168 yards and five touchdowns. Gallimore ran 17 times for 90 yards. Jones had seven carries for 44 yards. Underwood ran five times for 31 yards.
The leading rusher for Bluefield was Amir Hairston with 16 carries for 82 yards. Three Bluefield rushers ended the night with negative yardage.
"We want to thank our fans, the cheerleaders, and the Cougar Crazies for coming out tonight," Coach Akers said. "With it being a Thursday night and a little longer drive, we didn't expect to see a lot of people out. I think we had as many or more than Bluefield in the stands. It really means a lot to the kids and our coaches to see that. Our fans are the greatest and we appreciate all of you."