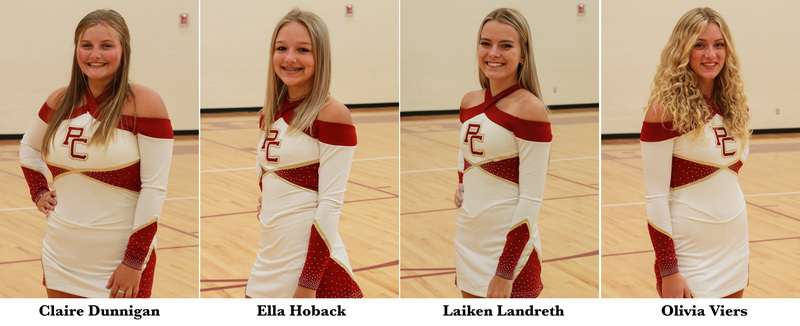 Pulaski County saw four members of the PCHS competition cheer squad recognized with Class 4 All-State honors Thursday.
Seniors Olivia Viers and Laiken Landreth are joined by junior Claire Dunnigan and sophomore Ella Hoback as members of the second team.
They are joined by Taylor Hodges of Grafton, Jenna Powell and Olivia Heinze of Great Bridge, Emilie Allen of Jamestown, Neslyah Burns of Churchland, Molly Kraetsch of Monocan, Celeste Faber of Atlee, Bryce Everett of Dinwiddie, Camryn Zeigler of King George, Bridget Walsh of Courtland, Ella Griffen and Lilly Johnson of Loudoun County, Kira Thomas of Liberty, Annabelle Chhour of Heritage, Lane Hornbecker of Broad Run, and Taylor Blount of Louisa County.
The first team consists of Morgan Voss, Taytum Waddell, and Caroline Smith of Grafton, Emily Murphy and Madison Sheffey of Great Bridge, Kaylee Keene, Destiny Taylor, and Dinaysha Holmes of Eastern View, Augusta Baldwin and Keatyn Whittaker of Hanover, Ava Dekenipp and Taylor Norton of Loudoun County, Bailey Allen of Liberty, Sara Brown of Heritage, Kiersten Sarner of Broad Run, and Mallory Marshall, Madi Zegarelli, Lorelei Mass, Madeline Powell, and Madeline Perdue of Jefferson Forest.
The Cheerleader of the Year is senior Morgan Voss of Grafton High School. The Coach of the Year is Mikaela Burling, also of Grafton.