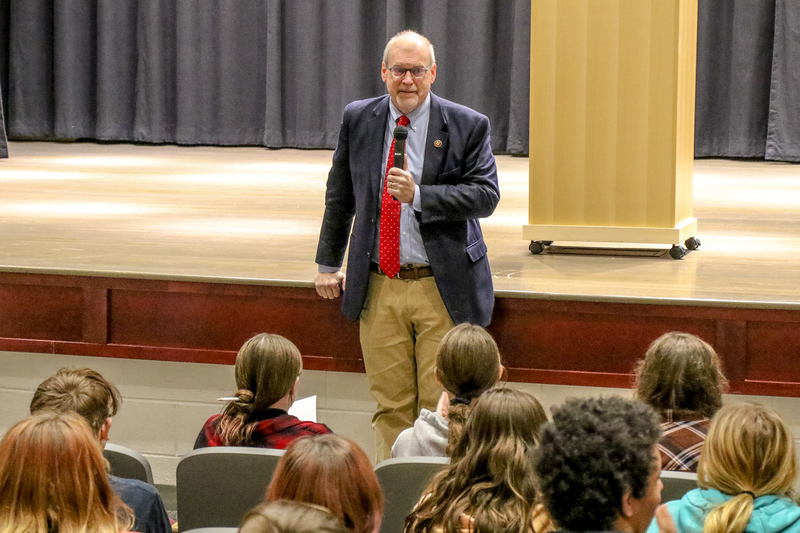 (Ninth District Congressman Morgan Griffith visited with PCMS students Monday)
Pulaski County Middle School students received a special visit Monday, November 21, as Congressman Morgan Griffith, of the 9th District, met with three civics classes of seventh-graders.
"The Virginia School Board Association has set aside November as 'Take Your Legislator to School' month," PCMS Principal Rebecah Smith said. "Dr. Siers shared this program with principals for us to be a part of this event in a previous Leadership Meeting. As a former Civics Teacher, I am excited for our school to participate. Representative Griffith met with three seventh-grade classes in the auditorium to share 'A Day in the life of a Congressman.'"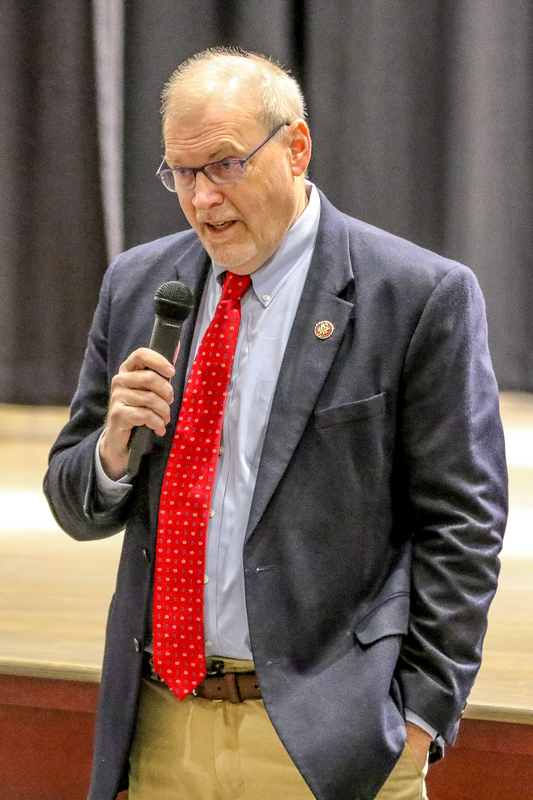 After the initial introduction, Congressman Griffith explained a little bit about how he got into politics and what motivated him to get involved. Students were then able to ask him questions concerning his job and day-to-day activities as a congressman.
"Our students were able to gain a much better understanding of the work a United States Representative both within their district and in Washington, D.C.," Mrs. Smith said. "While the group that met with Mr. Griffith in the auditorium was only three classes, the remainder of our school was able to watch live on our private YouTube channel within the school."
Students asked Griffith questions about his job, his daily routines, how he balances work with family, the process of getting bills passed into law, some of his favorite and least favorite parts of the job, and about some of the famous people he's been able to meet as a part of his job.
Visit Pulaski County Public Schools on Facebook for a full gallery of photos from the visit.