We are looking for the right teammate to join our team at Pulaski County Public Schools. Do you have Public Relations Experience? If so, visit pcva.us and look at the full job description for the Public Relations Specialist.

PCPS has offered a vaccination incentive of an activity day absence for all PCMS & PCHS students who have started the Covid vaccination process by today. PCHS students can use their activity day absence on Friday, September 17, 2021 and PCMS students can use theirs on Monday, September 20, 2021. The names of these students are on record at each school. The activity day code is the one used when a student is working on a service learning project as a way to improve our community and does not register as an absence on the student's record. Students who miss either of these days using a parent note (whether it be an original letter or the form letter that has been shared on social media) will be coded as a parent contact absence for which they are allowed up to 10 per year before absences count toward the truancy process. Parent contact absences do count as an absence in the student's record.

Pulaski County Public Schools plans to hold in-person instruction at all schools for all five days next week. This decision was made based on the number of employees scheduled to return from quarantine and because we have re-activated the standby substitute list. Pulaski County Middle School will still be on a virtual day for Friday, September 17, 2021.

Are you interested in working for Pulaski County Public Schools? Do you have Accounting Experience? If so, please see the opening for an Accounting Assistant in the Finance Department.

PCPS elementary school bus routes could be running as much as 1/2 hour earlier than usual this afternoon due to Pulaski County Middle School being on a virtual day today.

PCMS Notice Pulaski County Middle School will be closed with a Code 2 synchronous virtual day on Tuesday, September 7, 2021 due to a staffing shortage caused by Covid related absences. Students should log onto Canvas at 8:30 to begin instruction for the day.

A tree fell on Route 11 blocking several buses from completing their routes. Some students will be 45 minutes -1 hour late in arriving home this afternoon.

PCMS Football vs Patrick Henry August 30th PCMS 25 to Patrick Henry 8

PCMS Volleyball vs Carroll County Aug 26 Game 1: PCMS 25 to Carroll 10 Game 2: PCMS 25 to Carroll 16


The Pulaski County School Board Office will not open until 10:00 a.m. today due to a water outage in the town of Pulaski. Administrative personnel will be working in schools this morning.

The Pulaski County Public Schools transportation department is continuing to make progress on developing and adjusting regular routes for the 2021-2022 school year. We were able to complete all runs approximately one hour earlier yesterday than the day before. However, driver shortages continue to impact our ability to get times back to where they were during pre-Covid years, so evening arrival times of 5:00 or later may unfortunately become the norm on some routes. Please know that we still expect to have number of delays today and into next week although they should become less frequent each day. We're hopeful that we'll have routes and times somewhat solidified by the end of next week. Thank you for your continued patience and understanding.

The PCPS transportation department has been working to improve afternoon bus routes. We expect transportation to go better today but still recognize that there might be delays of 30 minutes or more on some runs. Thank you for your patience and understanding.

Make plans now to come and support the PCHS Theatre Department as they perform "SpongeBob SquarePants: The Musical." For show times and ticket pricing, please see the attached flyer.

We apologize for the fact that high school bus routes were not posted yesterday evening. The building of routes during a pandemic with a driver shortage that seems to grow by the day has been more difficult than anticipated. The easy solution would have been to return to last year's modified routes but we've been committed to returning things this year to as close to normal as we can get them. Please know that transportation staff are already on the job this morning trying to get the remaining few details ironed out and that routes will be posted as soon as possible. The routes should run at a time similar to what they were in 2019-2020. Parents can call the numbers below for more specific information. Also, we will have van drivers on standby this morning to pick up any high school student who misses the bus and parent transportation isn't an option. Just call to request a pick-up. Once again, we are extremely sorry for the anxiety and frustration this issue has caused and hope that everyone otherwise experiences a great first day of school. 540-643-0814 or 540-643-815


PCMS & PCHS Cross Country are ready to kick off an exciting school year!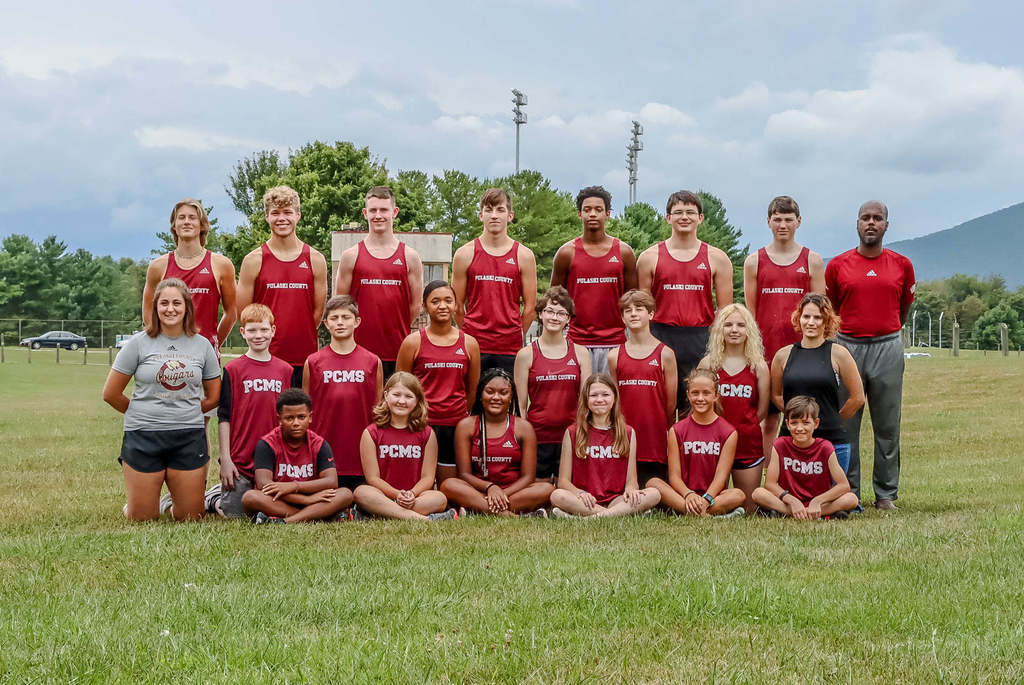 Pulaski County Public Schools apologizes for the late release of transportation routes for the 2021-2022 school year. The recent loss of personnel from the transportation department has necessitated a number of updates which prevented the routes from being finalized. Please know that our staff are working diligently on the issue. Elementary and Middle School routes have been posted and the High School routes should be finalized soon. Thank you for your patience and understanding.

We are excited to welcome our students back on Wednesday, August 18th. Pre K and Kindergarten students with the last name A-L will report on Wednesday the 18th and WILL NOT come on Thursday the 19th. This will be a full day. Pre K and Kindergarten students with the last name M-Z will report on Thursday the 19th and will not come on Wednesday the 18th. This will be a full day.

Pulaski County Public Schools is pleased to announce that it will be accepting online payments for all school fees in 2021-2022, including everything from field trips to spirit wear. This service is being offered to parents through SchoolCash Online, which is the industry leader in the management of school fees. SchoolCash Online helps parents and community members pay school-related fees safely and from the convenience of your phone or laptop using VISA, MasterCard, or eCheck. Also, by using SchoolCash Online, payments are made directly into the school's bank account which allows teachers to focus on helping students, and not counting cash. All school-related fees for students will be made available for purchase online in the SchoolCash Online system. Once registered, parents will receive notification about upcoming school activities and be able to pay and keep track of school fees for their students. Pulaski County parents should go ahead and register their students now to begin receiving notification of events and school items. Register at
https://pcva.schoolcashonline.com/