PCPS Announcement Regarding Changes in Mask Requirements Governor Youngkin's Executive Order #2 that relaxes mask requirements in public schools is set to go into effect on Monday, January 24, 2022. We are in the process of consulting with the New River Health District to determine how EO2 will impact our Covid response plan for contact tracing and quarantine guidelines and expect to release a revised plan later in the week. PCPS will continue to require the use of masks in schools for all in-person learning through Friday, January 21, 2022. Thank you.
Program offers assistance for child care The Child Care Subsidy Program assists families in paying child care costs for children under the age of 13 who are not eligible to attend public schools during the part of the day when public education is available. Assistance is also offered for children with special needs under age 18 who reside with the applicant. For those parents who are eligible and approved, this program can pay a portion of your child care costs directly to the child care provider. Recently, there have been changes to the basic eligibility requirements, along with other changes. To be eligible for the program, you must be a Virginia resident who is either actively employed or engaged in a job search. You may also be eligible if you are participating in an education or training program, are receiving child protective services (CPS), participating in an assigned activity for the Virginia Initiative for Education and Work (VIEW), or are participating in a Supplemental Nutrition Assistance Program Employment and Training (SPAPET) plan of participation. Parents must be able to provide documentation of the child's citizenship or legal residence in the United States. They must also provide documentation of the child's immunization requirements as outlined by the State Board of Health. Finally, you must provide documentation of household income that does not exceed the limits of the locality in which you reside. Benefits under the Child Care Subsidy Program have now been expanded until May 31, 2022. Funding is available for families whose income is below 85% of the state median income. One example would be a family of four that earns less than $7,412 per month. For more information or to see if you may qualify for assistance under the Child Care Subsidy Program, visit
https://www.doe.virginia.gov/cc/parents/index.html?pageID=4
. For help finding child care, parents can contact the Child Care Aware of Virginia referral specialist at
https://vachildcare.com/find-quality-childcare/request-child-care-form/
.
PCPS offering meal distributions With the remainder of the week seeing a move to asynchronous remote learning for the entire school system, Pulaski County Public Schools is offering assistance in the form of meal distributions. All students (children) age 2-18 are eligible for meals. Those up to 21 years old with a disability are also eligible. Meals are being prepared and packaged by the Pulaski County Public Schools Nutrition Program Staff members and will be distributed Thursday, Jan. 13, from 2 p.m to 3 p.m. at locations throughout the county. Those locations are: Critzer Elementary School, located at 100 Critzer Drive in Pulaski; Dublin United Methodist Church, located at 425 E. Main Street in Dublin; Pulaski County High School, located at 5414 Cougar Trail Road in Dublin; Pulaski County Middle School, located at 4396 Lee Hwy in Pulaski; Pulaski Elementary School, located at 2004 Morehead Lane in Pulaski; Riverlawn Elementary School, located at 8100 Beth Nelson Drive in Fairlawn; Snowville Elementary School, located at 4858 Lead Mines Road in Hiwassee. All meals consist of a minimum minimum of the following items: protein, grain, fresh, frozen or canned fruit, and fresh, frozen or canned vegetable and flavored or unflavored fat free or 1% bottled milk. Parent/Guardians may pick up meals for their children at designated meal distribution sites. Some of the menu items are perishable and some items may require cooking. Pulaski County's Public School Nutrition Program releases responsibility to parents regarding food safety once meals are distributed. Nutrition information is available by contacting
esadler@pcva.us
or
cpaul@pcva.us
or by visiting
www.pcva.us
. Meals for Special Dietary needs are not available during meal planning - special circumstances please contact us. Some foods may contain allergens. Pulaski County School Nutrition releases the responsibility to parent/guardians to monitor your child's consumption of foods included in the meal bag that may cause an allergic reaction. Cooking instructions for the meals are included in the attached notice. For more information on the Virtual Meals Distribution Program, contact Ethlene Sadler at
esadler@pcva.us
or call the School Nutrition Hotline at 540-643-0104 or 540-440-0375.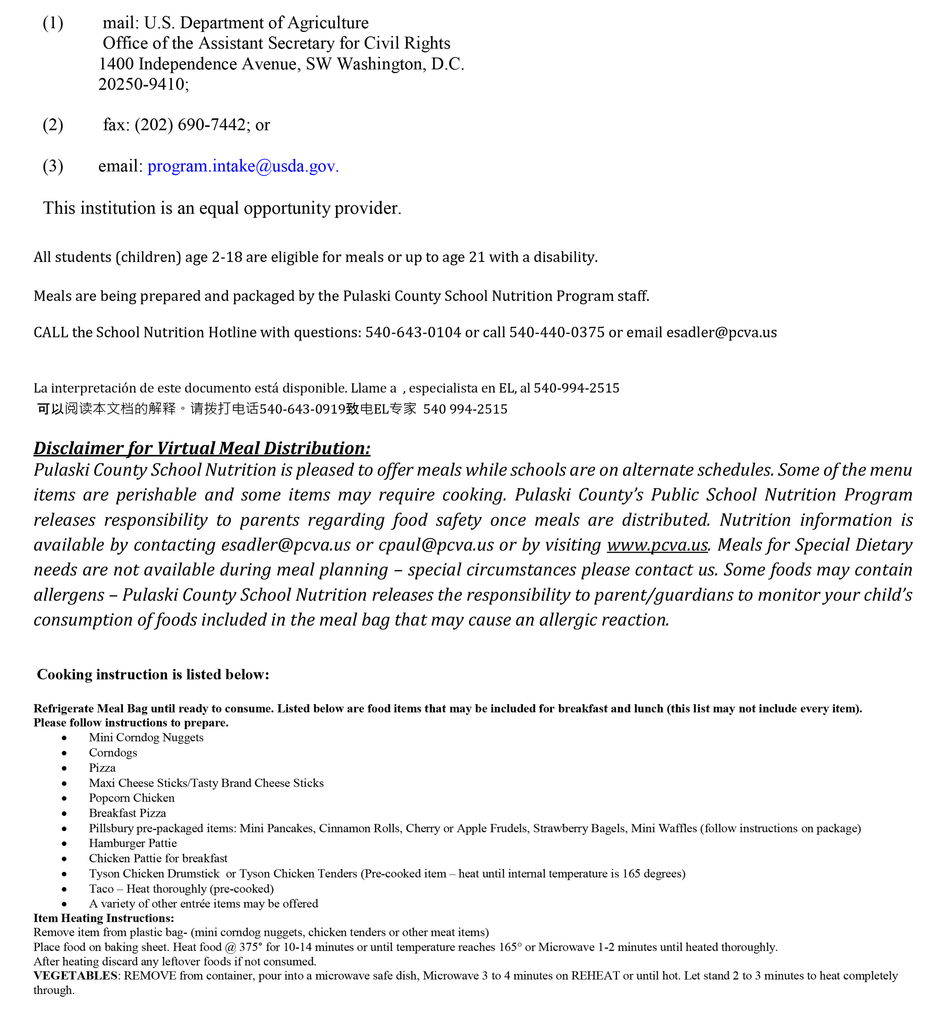 Pulaski County Public Schools will be moving to asynchronous remote learning for Thursday, January 13 and Friday, January 14, 2022 due to staffing shortages caused by the rapidly increasing number of positive Covid cases in our schools. Students will be given assignments to complete and teachers will be available to assist remotely from 9:00-3:00 each day. The next scheduled day for in-person learning is Tuesday, January 18, 2022. Thank you.
Come join our team! PCPS is seeking Substitute School Nurse candidates.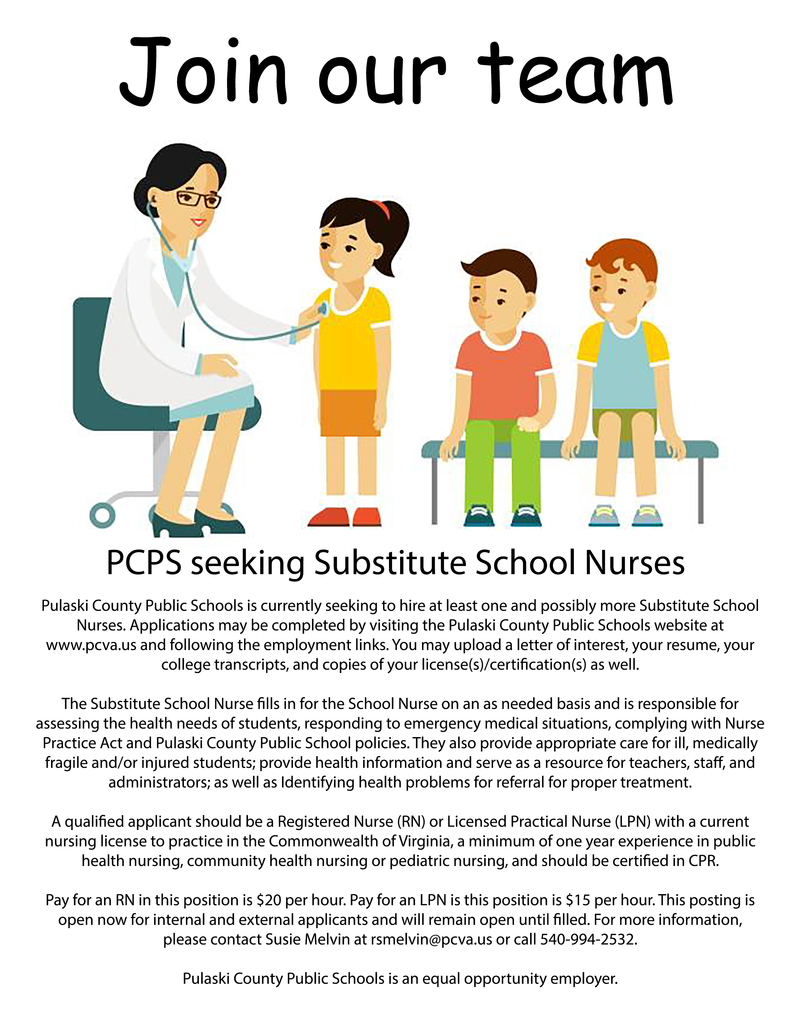 "Worth the Investment" is a program that will help parents of students and student-athletes by giving them important information about preparing for college. There is no cost for this event.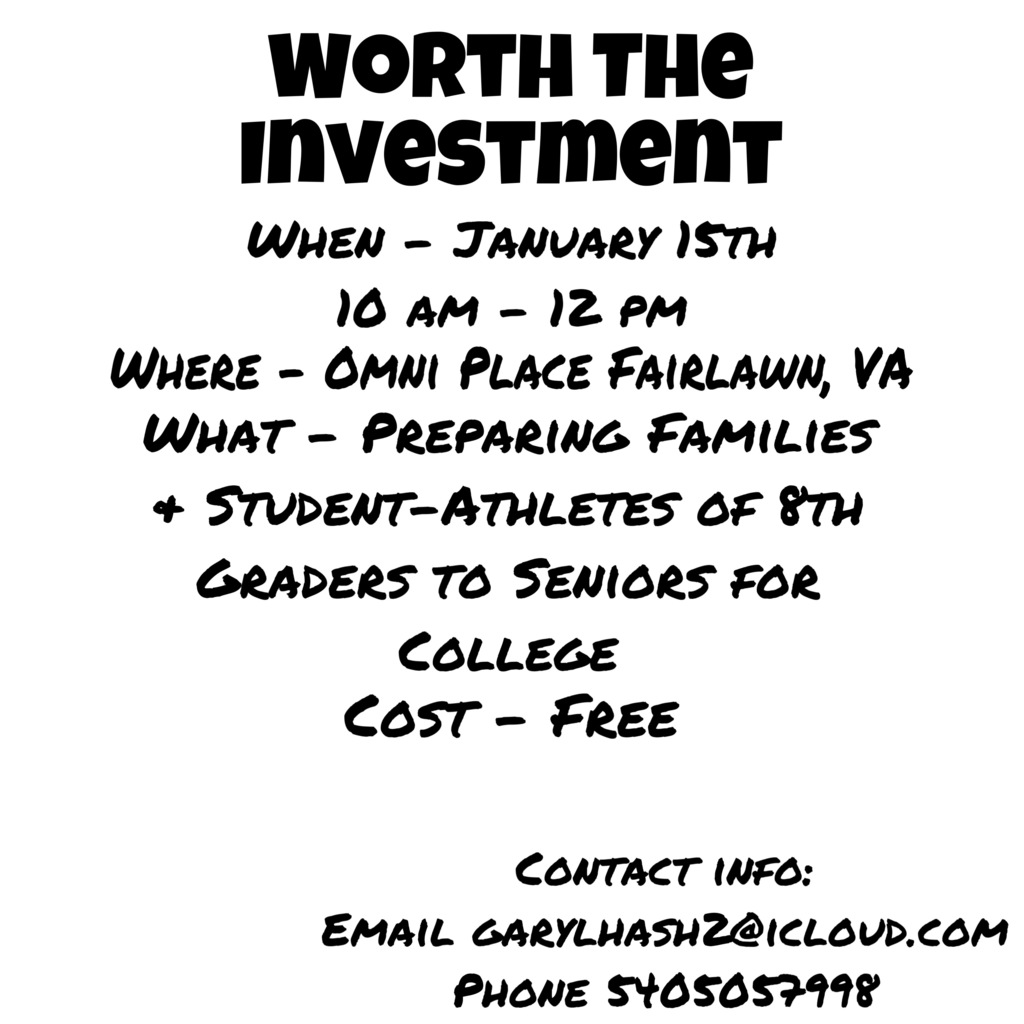 NRVHBA presents donation to CTE Program Community involvement and support is a key part of ensuring student success, especially when it comes to success after graduation as those students move into the workforce. One group recently made a donation to help the Pulaski County High School Career and Technical Education Center (CTE) achieve several goals and better prepare several students for life after high school. The New River Valley Home Builders Association (NRVHBA) recently presented a donation to the CTE Program for $2,500 to support two class projects. One project involves drywall installation, and another is the construction of a pergola, a covered outdoor garden structure that creates a shaded walkway, on the PCHS campus. "This donation was made possible by funds raised through ticket sales at the Touch-a-Truck NRV event, which took place on Aug. 14 of this year," stated Kelsey Grow of the NRVHBA. "Touch-a-Truck NRV is a fun, annual family event that helps get children's imaginations in gear so they can learn about careers that involve big vehicles, from construction and landscaping vehicles to law enforcement vehicles. Children get to have a safe and hands-on learning experience by safely exploring the vehicles, blasting the sirens, and honking horns while also asking questions with the men and women who operate them on the job." The NRVHBA is a professional trade organization dedicated to being the respected voice of the residential and commercial building industry. Chartered in May 1976, the group is a nonprofit trade association affiliated with the HBA of Virginia and the National Association of Home Builders Members. "This event also allows the NRVHBA to fulfill its mission of advocating for the construction industry, educating our community and paving the way for the future in trades education, and giving back to the New River Valley through charitable efforts and scholarships," Mrs. Grow said. "We are proud to support Pulaski County's Building Trades programs and help give them the tools to educate and encourage their students to learn about and hopefully pursue careers in the construction industry." For learn more about the NRVHBA, visit their website at
www.nrvhba.com
. Photo Cutline: Seen here are community business leaders with members of the PCHS CTE Program during the check presentation. They are (from left) Kelsey Grow of NRVHBA, Jeff Nosenzo of Brown Insurance, Ian Friend of SAS Builders, Stephanie Bell of Gay and Neel, PCHS Building Management Instructor Buddy Ratcliff, PCHS Technology Education Instructor Christian Miller, and CTE Director Megan Atkinson.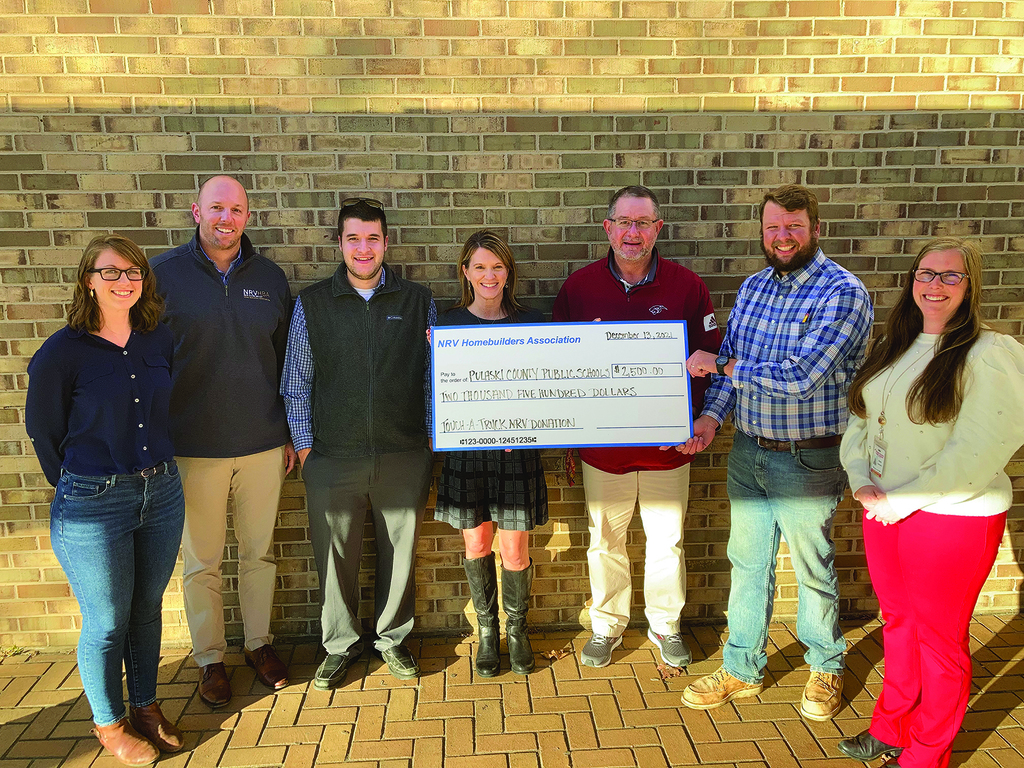 Here we go! Info for the PCMS Fishing Team meeting.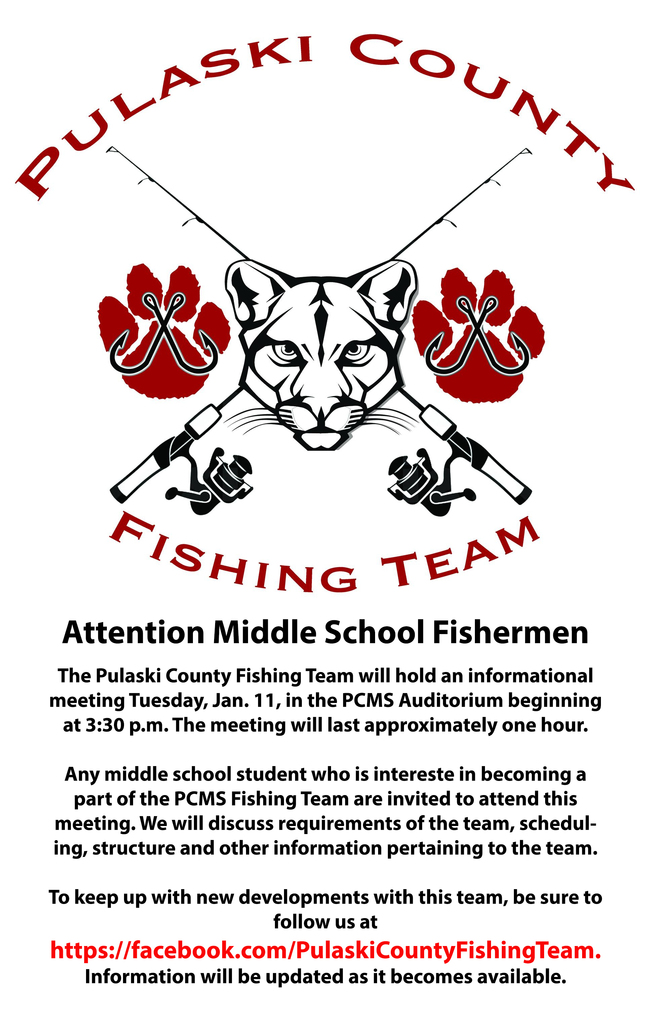 Pulaski County Public Schools will be closed on Friday, January 7, 2022 due to inclement weather. This will be a Code 0 with no virtual instruction. Thank you.
Come join our team!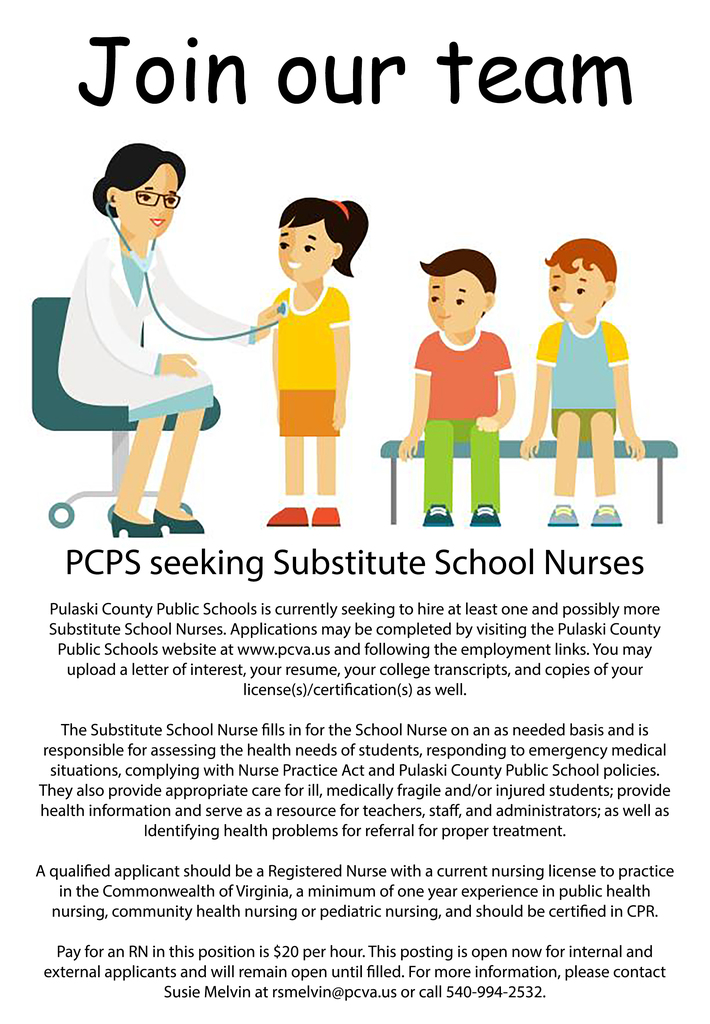 All after school activities for Pulaski County Public Schools are now cancelled for Thursday, Jan. 6, 2022.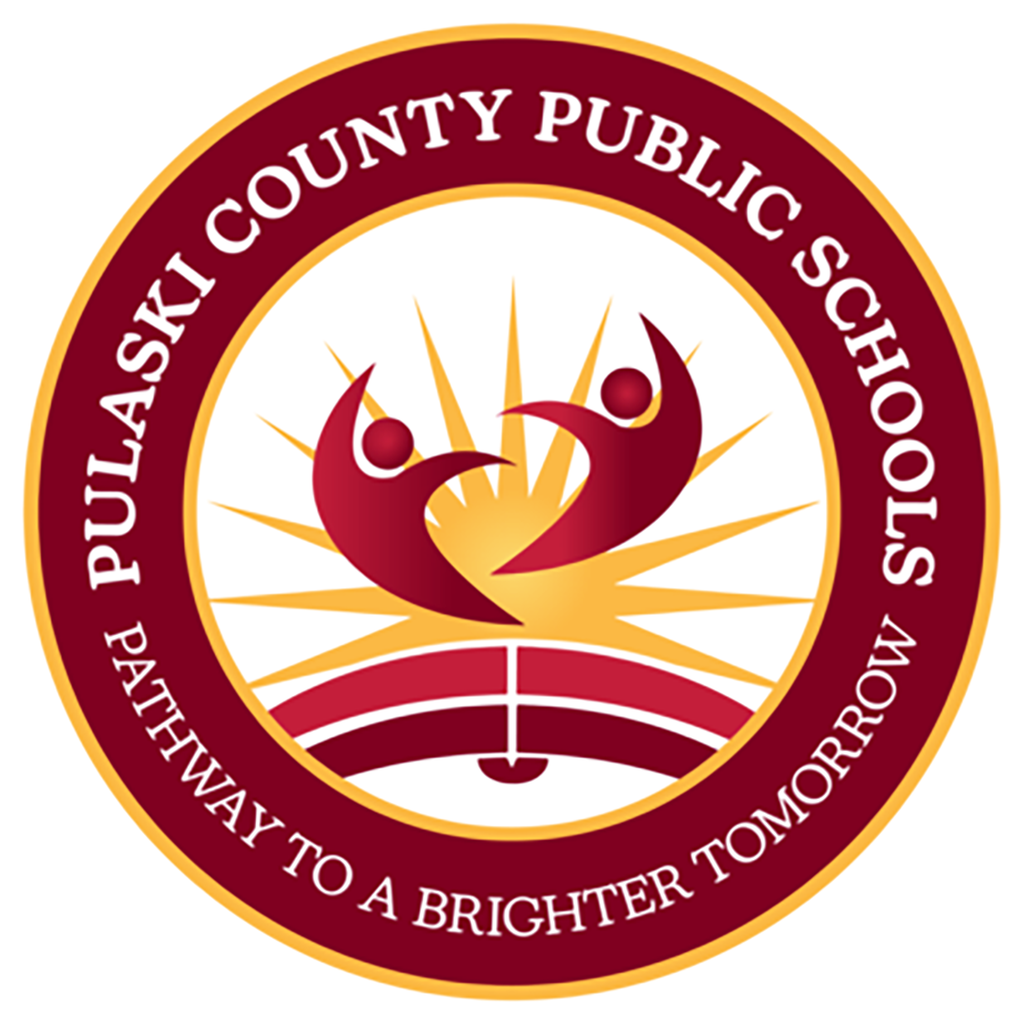 Important update for PC Fishing Team.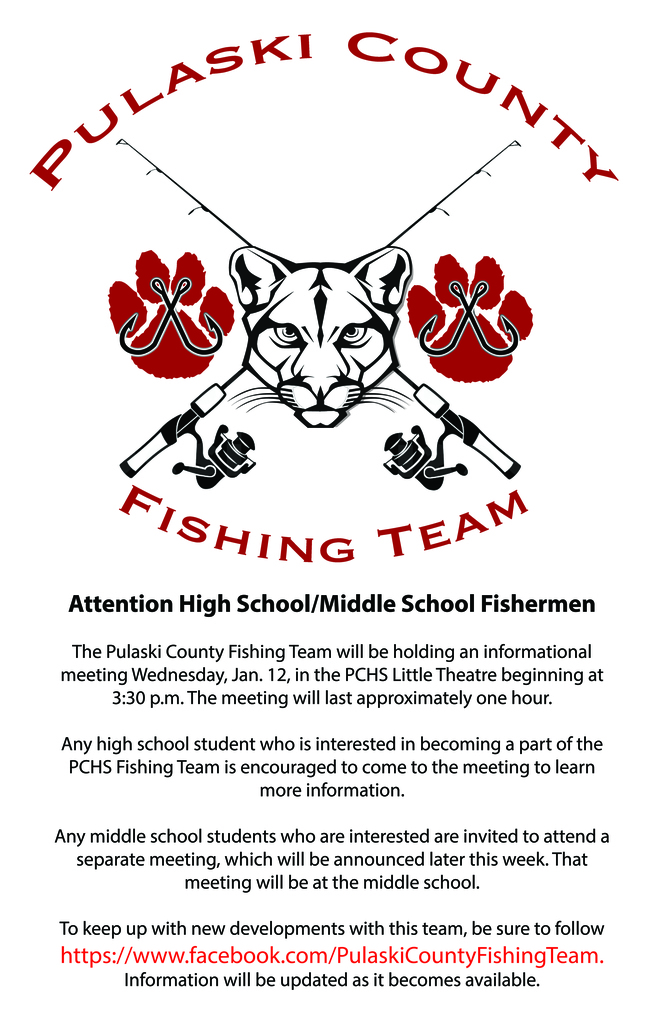 Congratulations to the JV Cougar basketball team on winning the First Community Bank Christmas Tournament JV Championship last week at Fort Chiswell High School.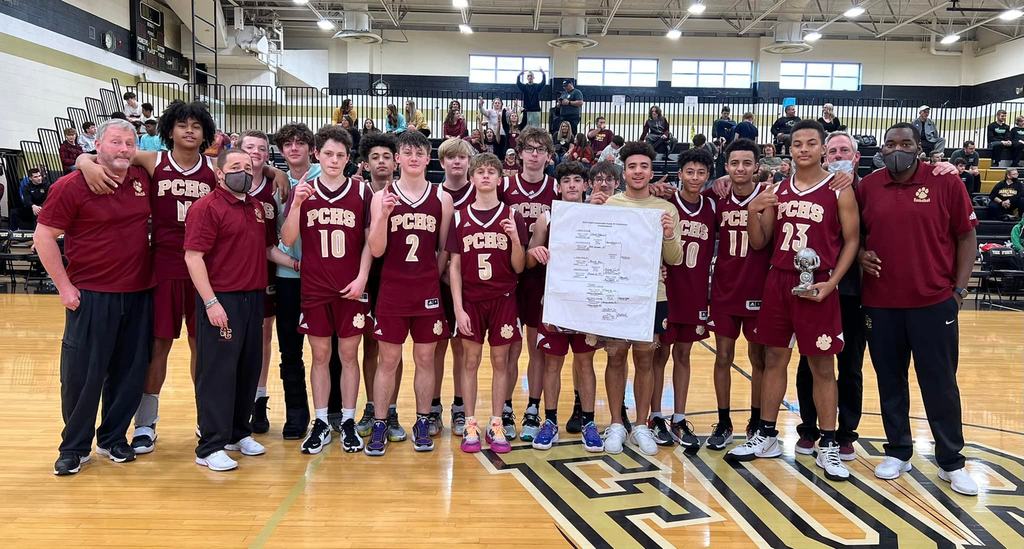 Please read the following information concerning COVID testing for our students, staff and faculty. This program is FREE and completely voluntary. Testing takes place each week, and you do NOT have to take the tests each week if you choose not to. The testing schedule is Mondays at CES, 10 a.m. followed by DES at 1 p.m.; Tuesdays at PMCS 8 a.m., PES 10:30 a.m., PCHS 1 p.m.; Wednesdays are RES at 8 a.m., SES at 10 a.m. Please help us do everything possible to keep our students in school, in person and safe. Together we can make it through this.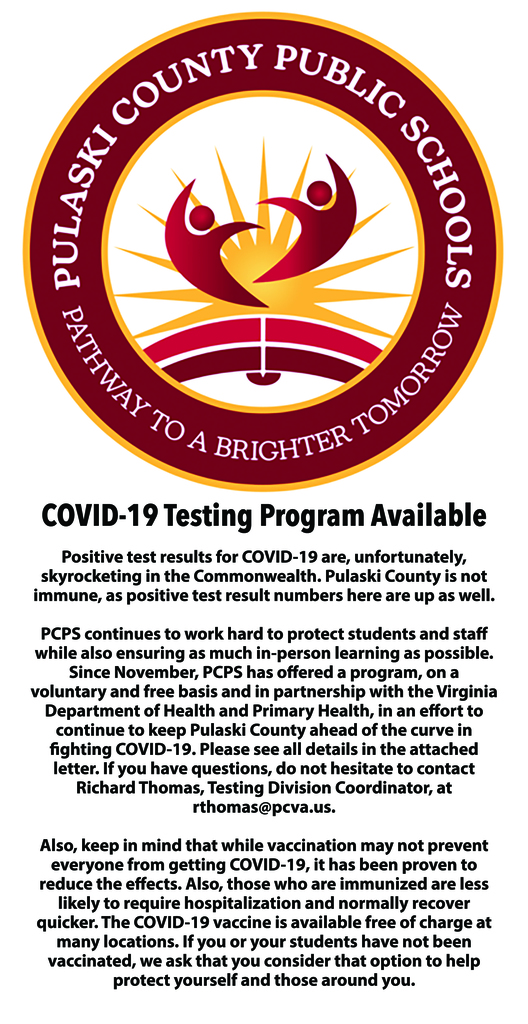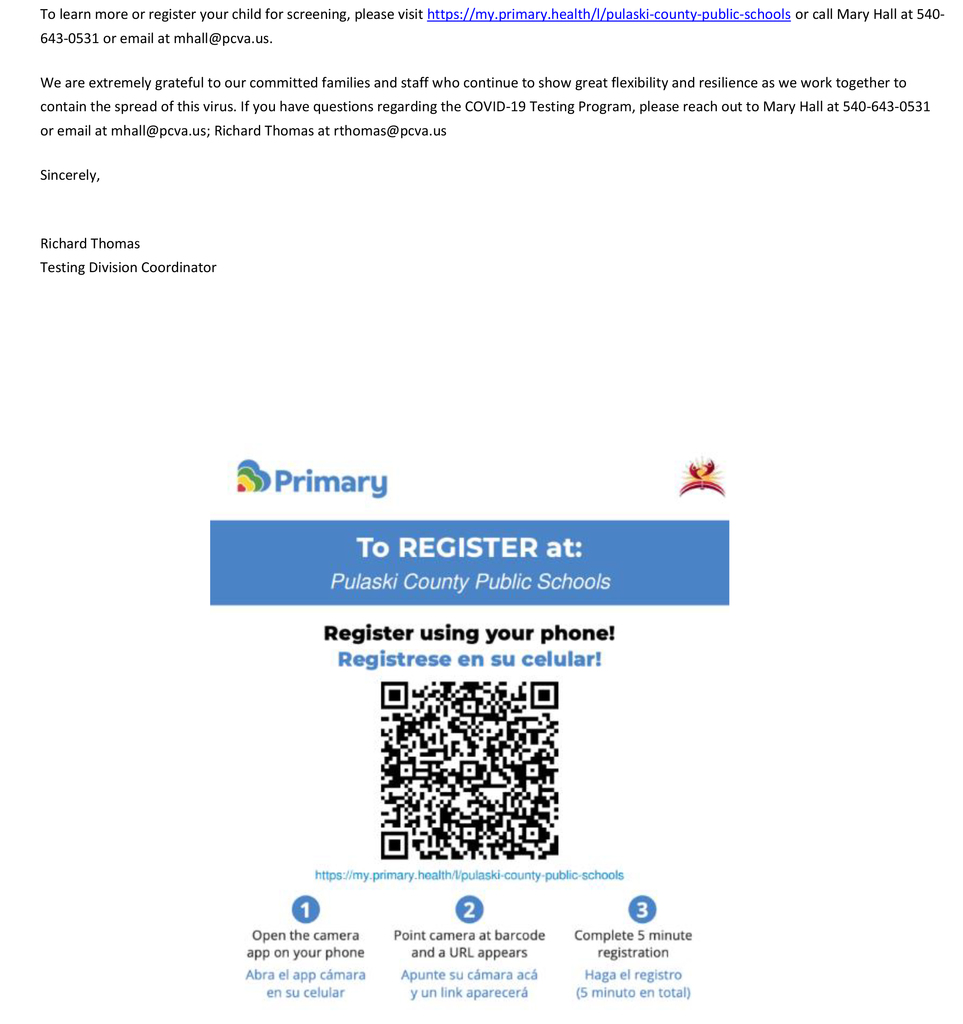 Pulaski County Public Schools will be closed on Tuesday, January 4, 2022 due to inclement weather. This will not be a virtual instruction day. Teachers and support staff will have a workday from 9:00-3:00 in order to prepare their classrooms to begin the 2nd semester. Thank you.

All Pulaski County school and office buildings will be closed today due to inclement weather. Employees, who aren't essential for snow removal, are approved to complete the workday from home. We will assess conditions later today to determine how tomorrow's schedule might be impacted. Thank you.

The active shooter drill scheduled to occur at PCMS on Monday afternoon has been canceled and will be rescheduled for a later date. Those planning to attend for professional development points should remain at their home school. Thank you.

PCPS Employees, I hope that everyone has had a restful break. Given the forecast for tomorrow morning, we're calling a 2 hour delay for everyone's arrival time. Schools and offices will open at 10:00. Those scheduled to participate in the Equity or Restorative Practices training can do so from home and report to their school or office at 12:30. We will assess road conditions in the morning and notify everyone if this plan needs to be changed. Thank you.
Our Cougar and Lady Cougar basketball teams are working hard during the break. For the Cougars, today is a huge day. The JV team will be playing at 2:15 and the varsity squad will play at 7:00. Both teams are playing in the championship game of the First Community Bank Tournament at Fort Chiswell High School. Both have gone undefeated through the tournament to this point. For the Lady Cougars, they've been busy playing in a huge tournament in Greeneville, Tennessee, which features 20 teams with a ton of top college prospects. After falling to top-ranked Oak Ridge, Tennessee, in their opening game, the Lady Cougars earned a huge win over Shelby Valley last night. They'll be playing the Cleveland High School Blue Raiders from Cleveland, Tennessee, today at 4:30 p.m. Games can be watched live online at
https://ajblc.com/live-stream/
. Good luck to all of our Pulaski County athletes! GO COUGARS! GO LADY COUGARS!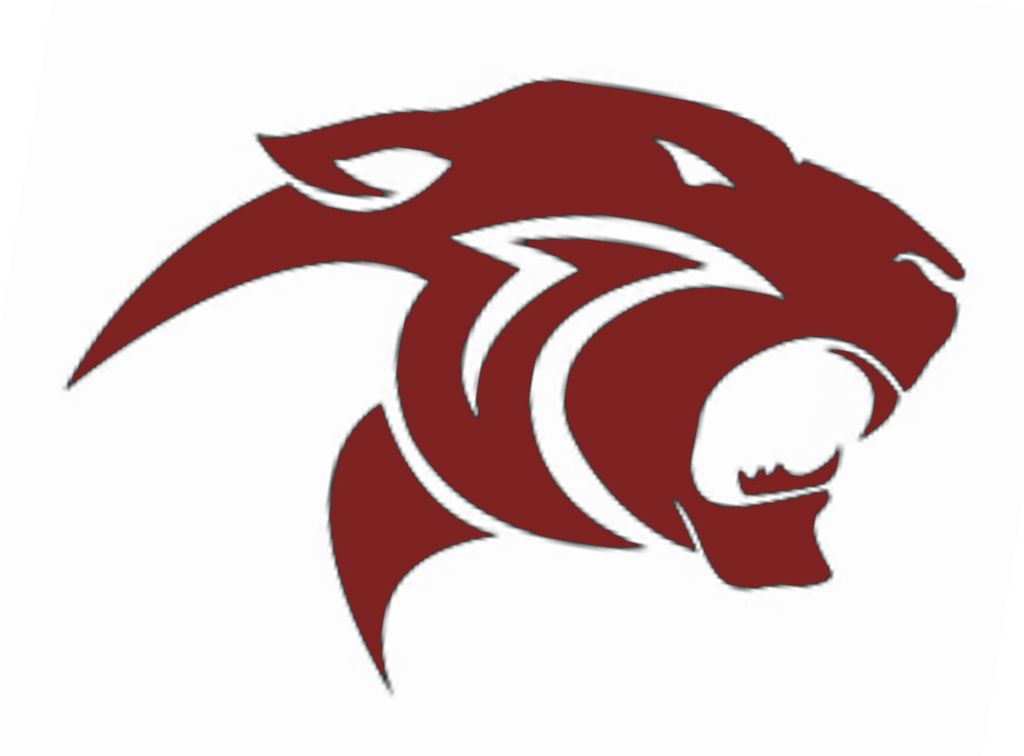 With COVID-19 cases rising, many parents have been asking about any plans to go back to a virtual schedule. After consulting with the New River Health District, students will return to school on schedule and as planned Tuesday, Jan. 4. To be clear, it is the goal of Pulaski County Public Schools to keep our students in the classroom with in-person learning. We will continue to monitor the data from our school system and make decisions on a school-by-school basis, as needed. With that in mind, we are asking that everyone do their part. First, we all need to ensure we are doing the basics. Wear your mask when indoors or in large groups. Practice social distancing. Wash your hands. If you feel sick or have symptoms, get tested and avoid contact with others until you have the results. It has been proven that vaccination is the best tool in the COVID fight. If you or your students have not been vaccinated, we ask that you consider doing so. We know the Omicron variant is now here in the NRV. While that may sound scary, most reports show that it is NOT more severe than earlier variants for children and seems to be milder for most adults as well. New guidance from the CDC concerning isolation, quarantine times, and "test to stay" protocols is expected to be released soon. Until that time, we want to focus on protecting our students and staff and doing everything possible to ensure we keep our students in the classroom. For more information on COVID-19, testing and mitigation measures, visit
https://www.vdh.virginia.gov/coronavirus/
.