Congratulations to Lady Cougar senior basketball player Ally Fleenor! Early in the second quarter Tuesday evening, with 4:51 remaining, she hit a tough layup after battling through two Patrick Henry defenders to break the 1,000 point mark of her career. The Lady Cougars went on to defeat Patrick Henry 60-37 to move to 4-1 on the season. the JV Lady Cougars remained undefeated after winning their toughest game of the season 43-35.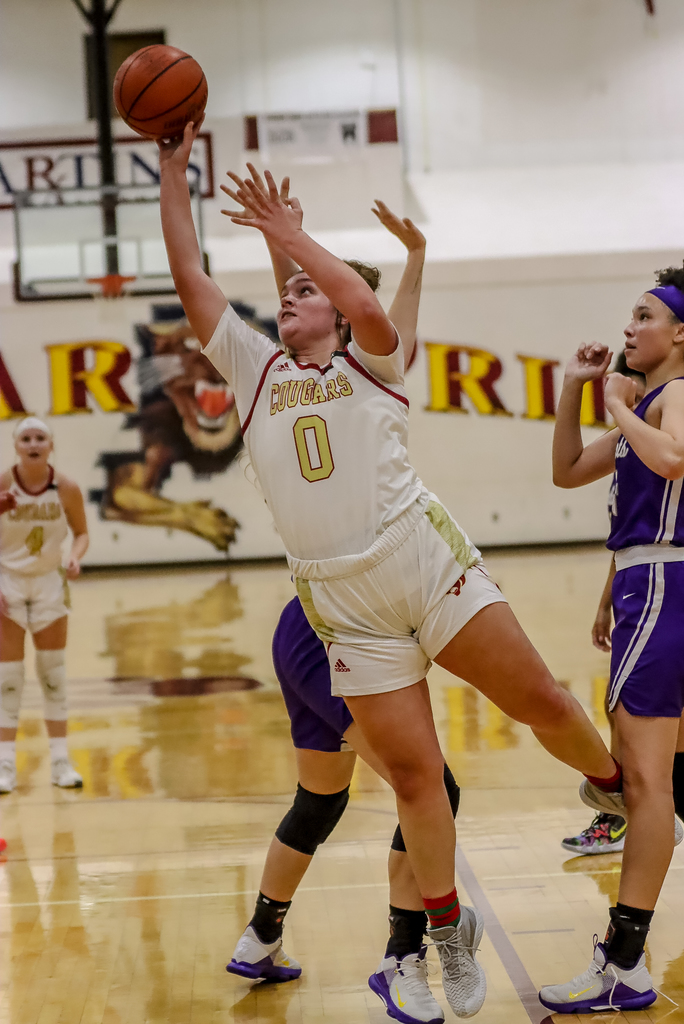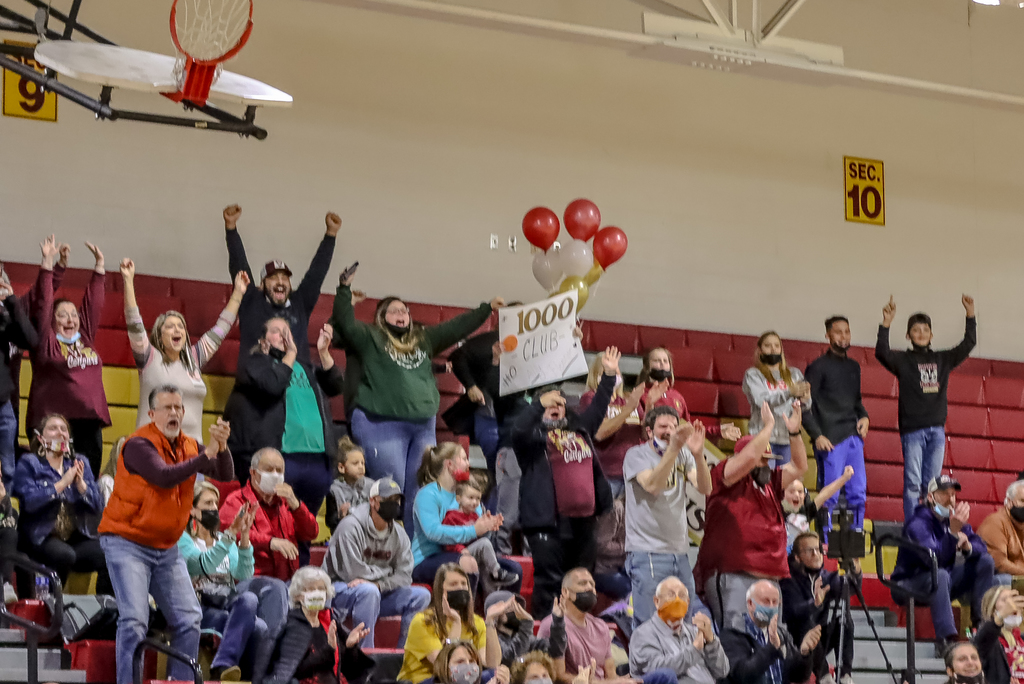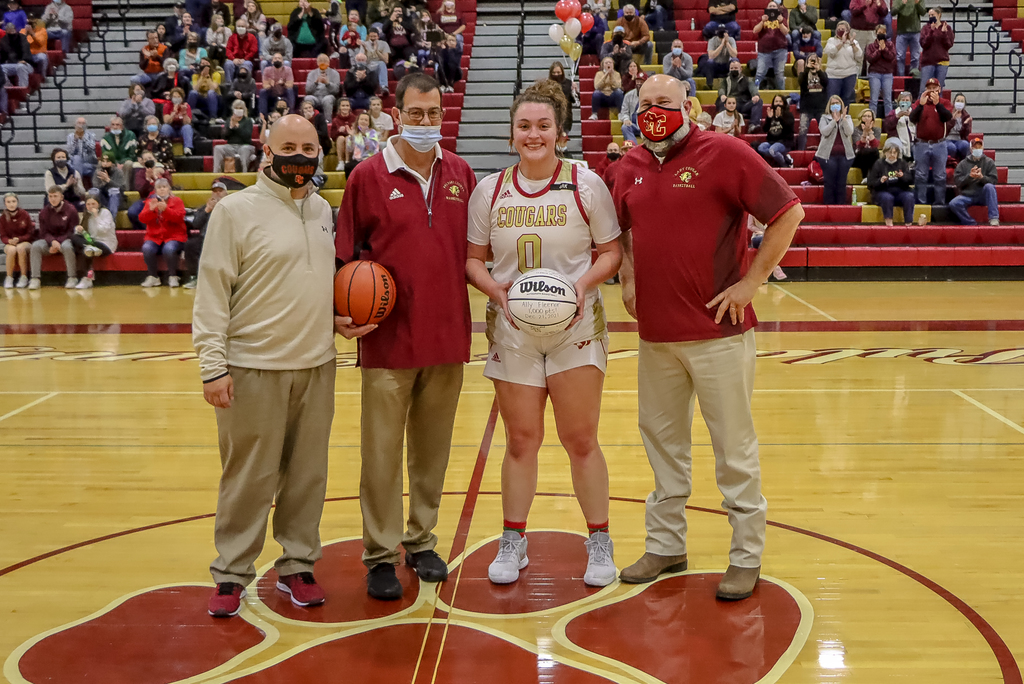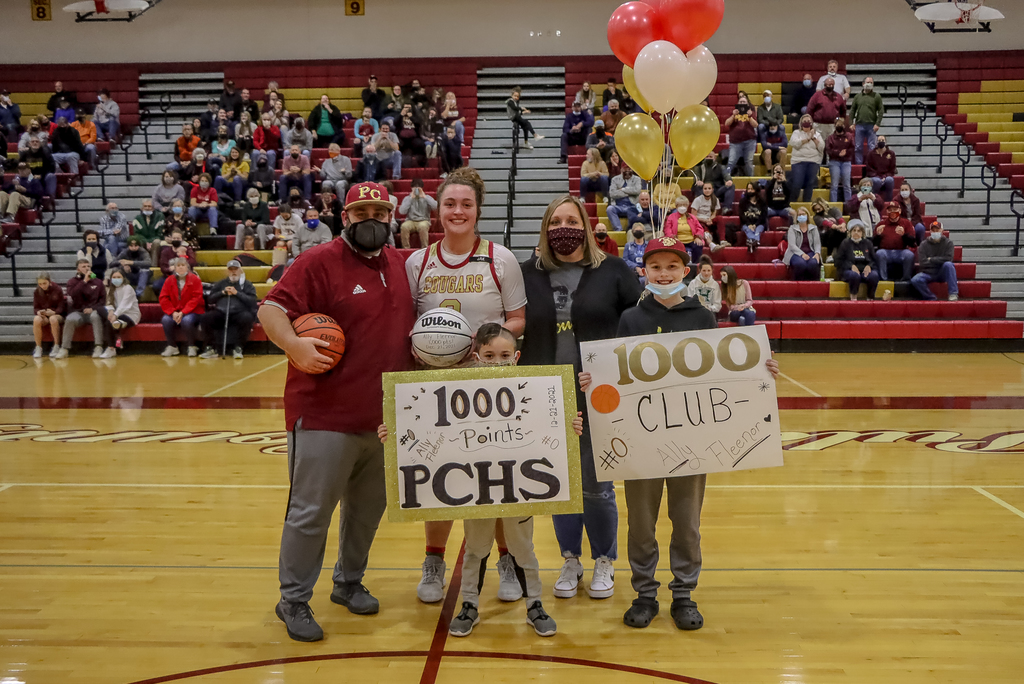 At the Monday, December 20, meeting of the Pulaski County Board of Supervisors, it was announced that Mr. Charles Bopp will be retiring from the Pulaski County Board of Supervisors due to personal health reasons. Pulaski County Public Schools would like to publicly recognize and thank Mr. Bopp for his many years of honorable and faithful service to the citizens of Pulaski County. "Pulaski County's Robinson District was well served by Mr. Bopp for the many years of his tenure on the Board of Supervisors," Dr. Paige Cash, Robinson District Representative of the Pulaski County School Board said. "He is a dedicated public servant and family man. Please join Pulaski County Public Schools as we wish him well."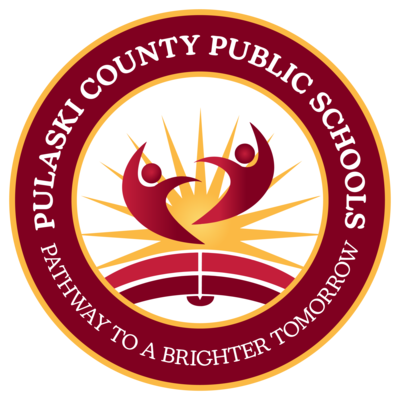 First Bank & Trust donates to backpack programs Community involvement is one of the many things that make Pulaski County Public Schools so special. Our community members and local businesses are and have been strong supporters of educational and other programs that benefit our students. Another example of that support recently took place when First Bank & Trust made donations to support two local backpack programs. The Snowville Backpack Buddies and the DES Backpack Program are just two of the local organizations that work with our local schools to help provide healthy and nutritious snacks and food for students who may otherwise do without. These backpacks are sent home during the weekends packed with food donated or purchased by these organizations. The groups collect or purchase the food, fill the backpacks, and then deliver them to the schools each week for the students. Students return the empty backpacks when they return to school. Seen here are representatives from First Bank & Trust along with representatives from the backpack programs and schools. First Bank & Trust donated $500 to each program to help them in providing assistance to these students. We gratefully thank you for your generous support.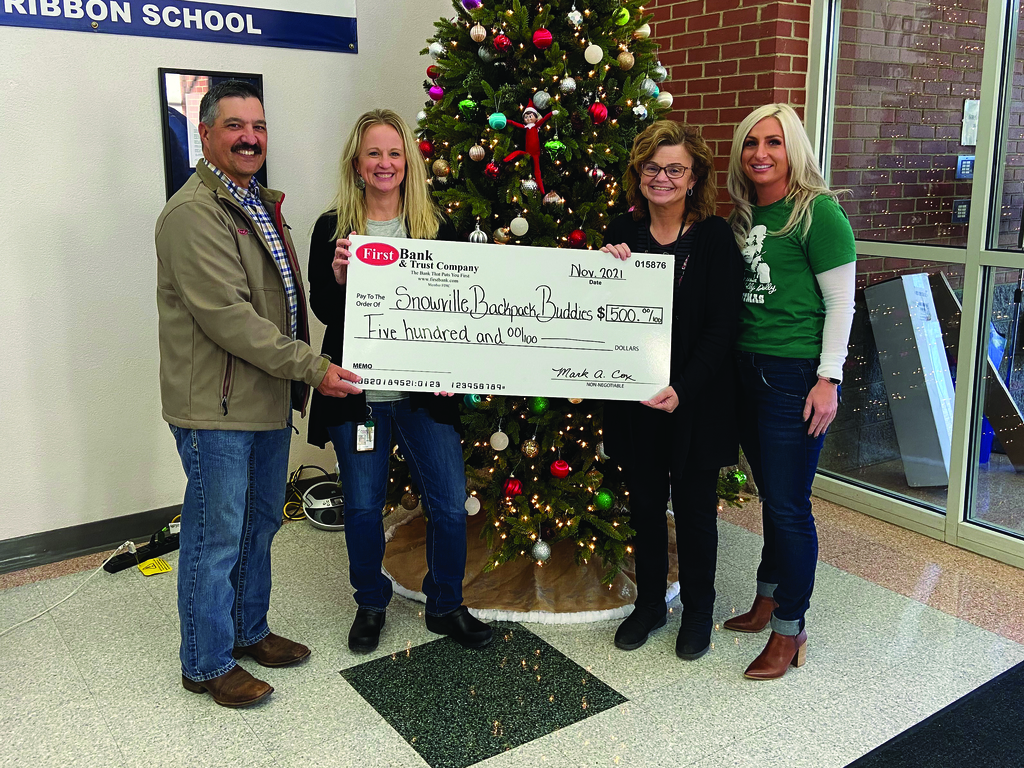 PCPS set calendars for two years At their most recent meeting, the Pulaski County School Board approved the calendars for the upcoming 2022-23 and 2023-24 school years. "We wanted to be proactive and set the calendars early and ahead of schedule in an effort to give teachers, staff and parents extra time to make plans," Dr. Kevin Siers, Superintendent of PCPS said. "We went through a process that involved input from various stakeholders in the community and school system to make this happen and we greatly appreciate all of their input. We were able to put together a schedule that we think everyone will be pleased with." First, information was gathered that included input from board members, staff, teachers, students and parents. Surveys went out asking for recommendations on start dates and end dates, as well as questions concerning teacher work days, holidays and other important events. With the information in hand, two different calendars were created. While the two calendars were similar in many aspects, they did offer variations in start and end of school dates and other items. Those calendars were then presented to the board, as well as teacher, staff, parent and student advisory groups for consideration. After being presented with the options, a vast majority of those involved recommended the calendar that was approved Tuesday, Dec. 14. The 2022-23 calendar will see teachers return Aug. 4 for a teacher work day. A School Based Professional Development Day followed by Convocation will happen Aug. 5. Open House for PCHS will take place for high school and middle school students Aug. 8, followed by elementary school open house Aug. 9. Another teacher workday will take place Aug. 10. PCPS will welcome students back beginning Aug. 11, 2021. Students and staff will enjoy a long weekend with Nov. 7-8 as scheduled days off due to the election. Fall Break will be Nov. 23-25 with early dismissal Nov. 22. Winter Break will be Dec. 19-30 with early dismissal Dec. 16. Students will return from winter break Jan. 2, 2023. Spring Break will be April 11-14 with early release April 6. The last day of class for seniors will be May 12, with graduation from PCHS set for May 19. May 31 is set as the final day of school for all students in PCPS.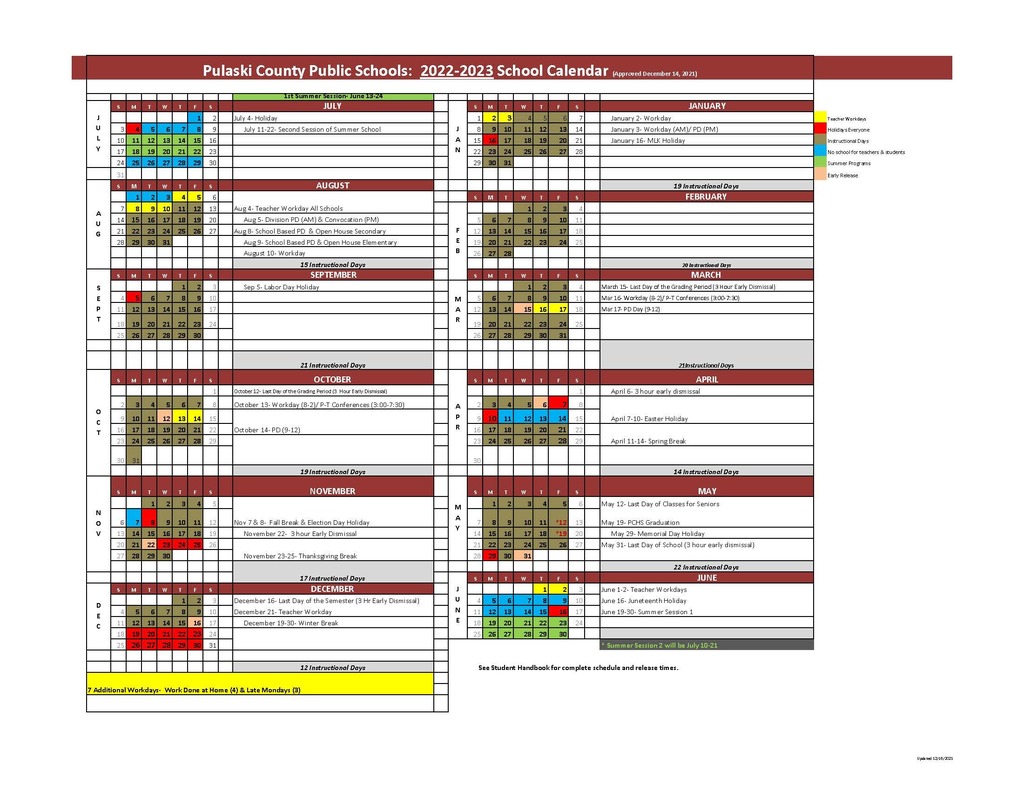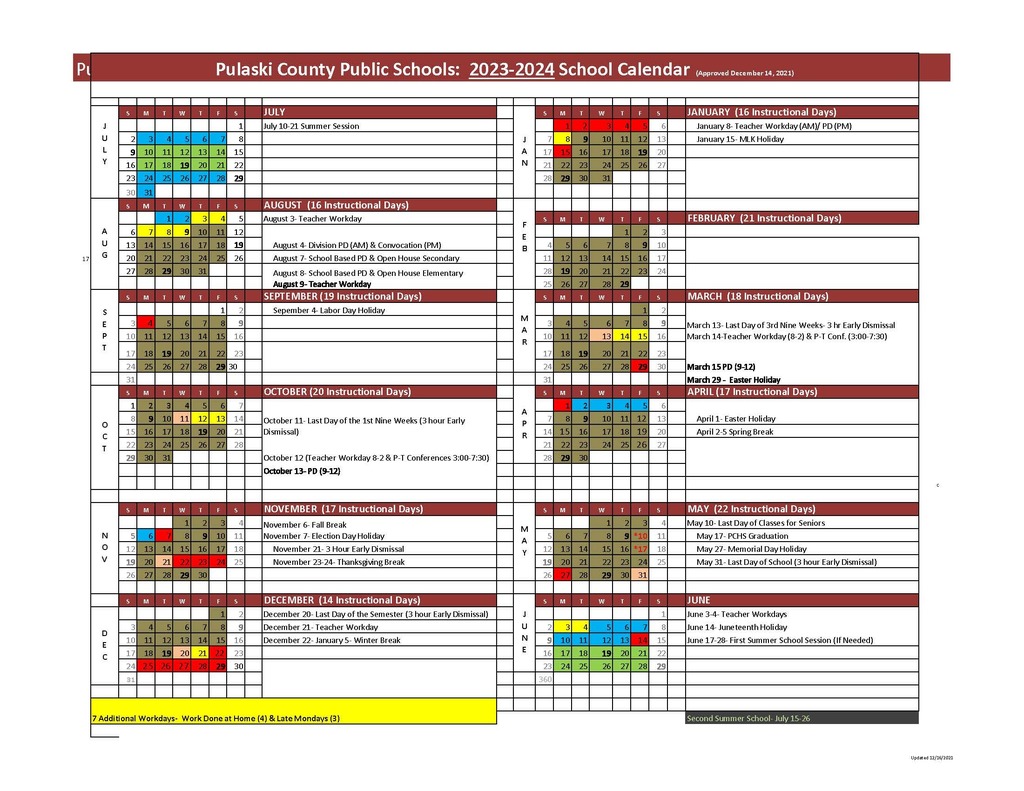 Bus 49 for Snowville Elementary School is running 45 to 60 minutes late this morning. We are sorry for any inconvenience this might cause.
Congratulations to these members of the Pulaski County High School Choral Department. They recently auditioned for the District 7 All-District Chorus and were selected from a large group of their peers from schools around the district. The students are (from left) Carlie Keller, Addisyn Slaughter, Kaydence Conner, James Johnson, Bruce Keller, Carrie Blankenship, Faith O'Dell, Colin Hall and Gwendolyn Puckett. In addition to being selected as All-District, Con Hall and Bruce Keller were ranked first in their respective voice parts. Congratulations and great job representing Pulaski County!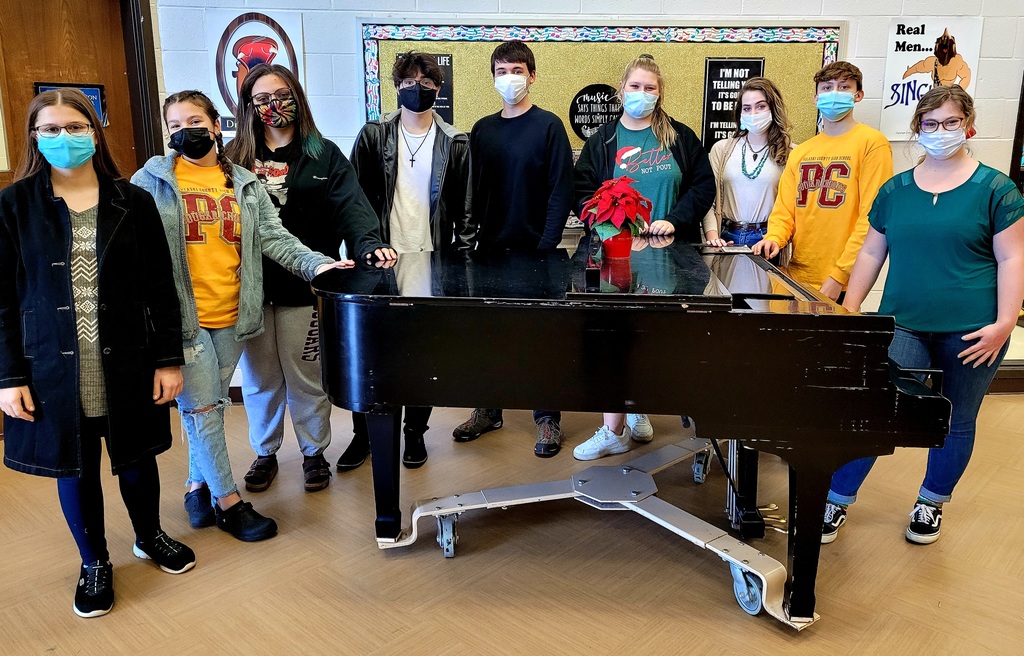 New River Valley Chapter 2021 Reading Teacher of the Year/ / Rachel Simmers, Title I Teacher at Dublin Elementary School, was awarded the honor of the Virginia State Literacy Association New River Valley Chapter 2021 Reading Teacher of the Year. Mrs. Simmers is a team player who is eager to go the extra mile to support all students at Dublin Elementary School through programs, such as virtual reading nights and putting new books in the hands of students. Mrs. Simmers has been teaching for 18 years. She received her Reading Specialist certification in 2018. She is currently involved in Language Essentials for Teachers of Reading and Spelling training. Mrs. Simmers always strives to bring best practices into the classroom.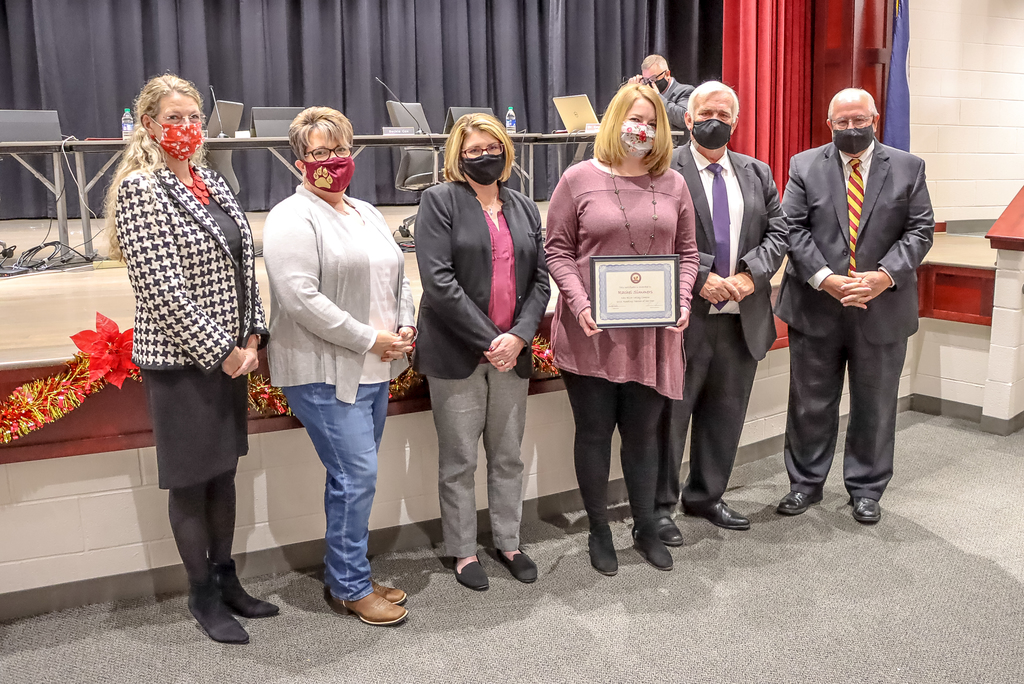 Senior of the Month Pulaski County Public Schools and Pulaski County High School are proud to honor Kimberly Brooks Lyons as Senior of the Month for December. Kimberly is the daughter of Dustin and Faye Lyons. The nominator stated, "I have known and worked with Kimberly over the past four years as a member of the Competition Cheer program. Kimberly is a vital asset to the program and will be greatly missed when she graduates. She has served as Captain of the PCHS Competition Cheer team during both her junior and senior seasons. She was also named a member of the first-team All-Region cheer team and first-team All-State cheer team three times and is a two-time Region 4D Cheerleader of the Year recipient (as a freshman in 2018 and again as a senior in 2021). Her positive attitude, kind spirit, and immense work ethic serve as a great leadership example both on and off the competition mat. Not only is Kimberly athletically gifted, but she is also a scholar-athlete. She currently has a 4.15 GPA and has already earned 28 college credits from dual enrollment courses. Kimberly is compassionate, working to make her community better by regularly participating in service projects. Examples include a drive to collect supplies for the Women's Resource Center and fundraisers to support local backpack programs. I believe Kimberly Lyons represents all that is good about Pulaski County High School. She is kind, considerate, and dedicated, with a bright future ahead of her and very deserving of the title of Senior of the Month." Upon graduation, Kimberly will be attending Virginia Tech majoring in bio-chemistry. She plans to go into the medical field, but at this time is a bit uncertain as to which avenue to choose. In her spare time, Kimberly enjoys drawing, painting and hanging out with friends.
Let's all make it home safely!
The Pulaski County High School Theatre Arts Department is known for putting on outstanding stage presentations. This presentation is sure to be another great one. Come out and see our students as they perform White Christmas.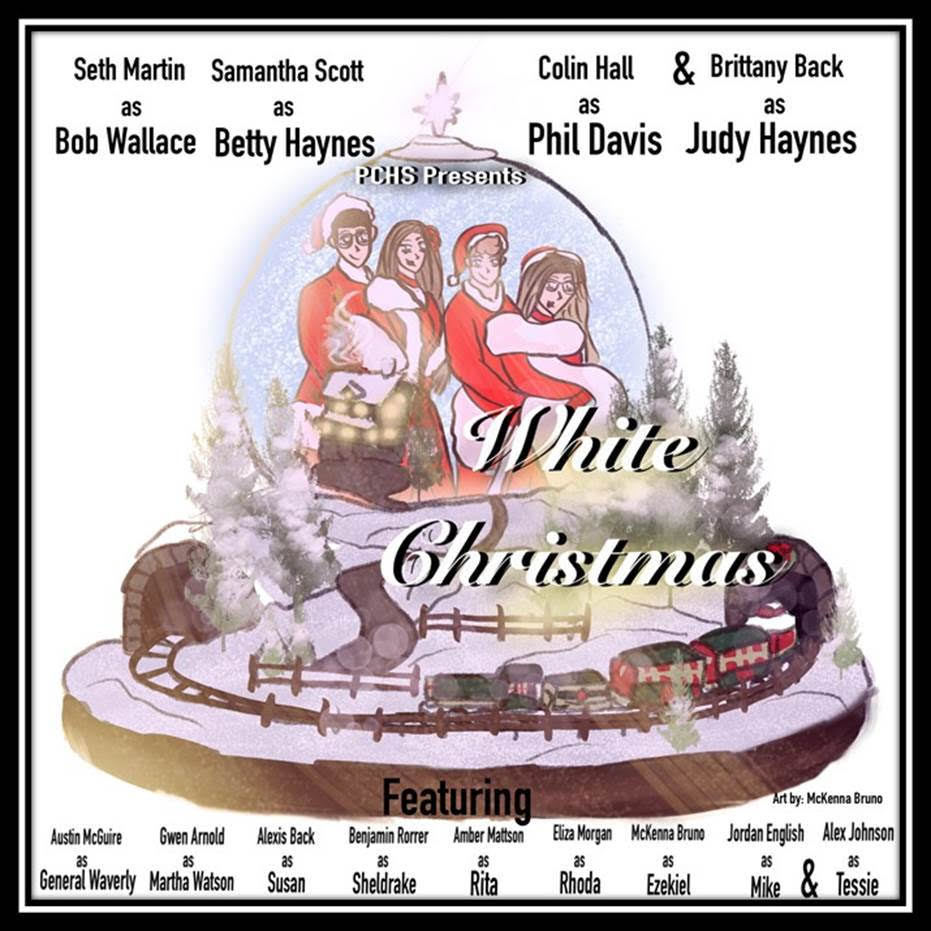 With the goal of offering every student an activity to be involved in, Pulaski County Public Schools is pleased to announce the formation of a new program for our students. Beginning this spring, PCHS and PCMS will be the newest members of the Virginia B.A.S.S. Nation. The two schools will form a Bass Fishing Club and a B.A.S.S. Fishing team at each school to learn about bass fishing and take part in competitive competitions. The teams will compete against other area high schools and middle schools. The regular season will conclude with a state championship tournament, known as the Joseph Thomson Memorial 6 Man Team State Championship. While this project is in the beginning stages, we want to get the word out now and begin to build interest. We are working to plan an initial interest meeting in the next two weeks. That information will be posted on the Pulaski County Public Schools website and Facebook page, along with the high school and middle school pages. If you or someone you know, who is in good standing with their grades and the school, might be interested in this team, please help share the word. We will also be looking for boat captains for our tournaments. Boat captains must be 18 or over, not a student, and able to pass a background check. Boats must be at least 16' long, have an electric bow mounted trolling motor, sufficient livewell capacity to maintain a limit of bass by two contestants in good condition during the duration of each tournament, and a motor at least 40 hp and no larger than 250 hp. Boats must include all safety equipment, have a valid Virginia registration and insurance. More details, rules and information will be put out over the next few weeks. Be sure to visit us on Facebook at
https://www.facebook.com/Pulaski-County-Fishing-Team
.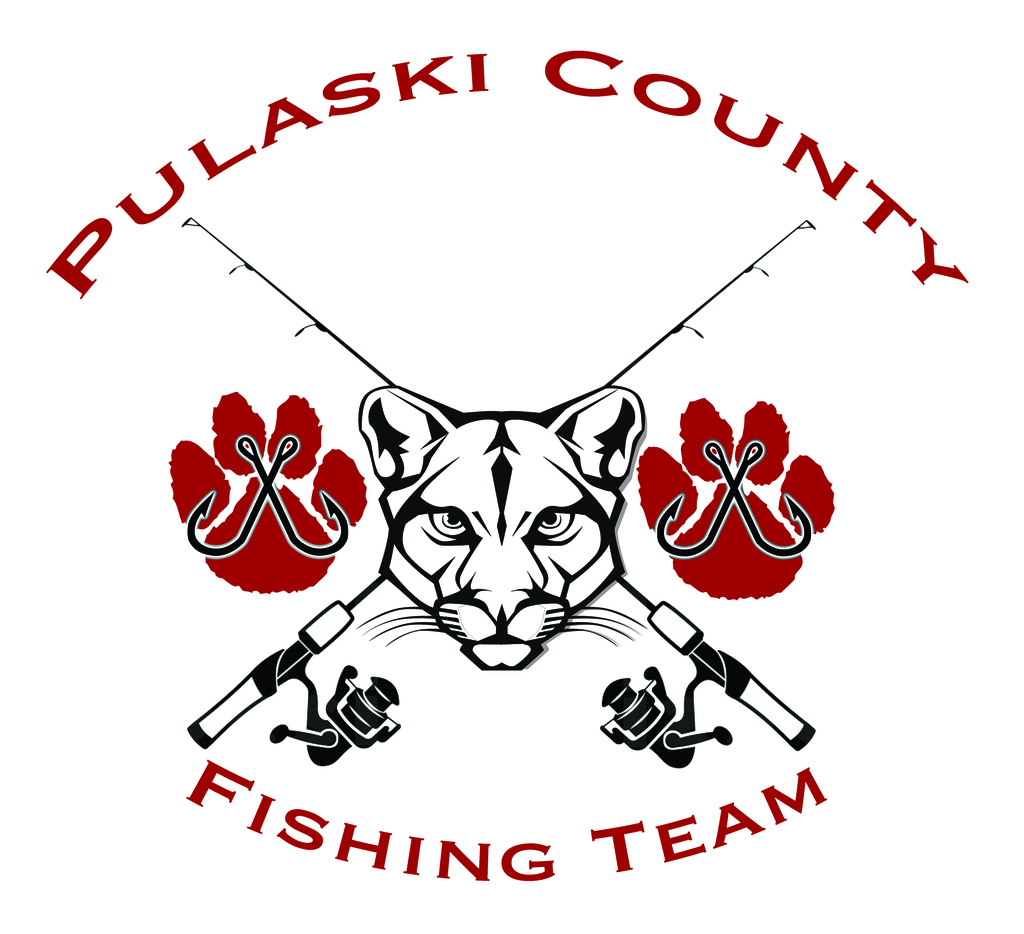 Critzer Elementary School will hold an asynchronous virtual day on Tuesday, December 14, 2021 so that faculty and staff members can participate in the private memorial service for Auston Wingo. All other schools will operate on a regular schedule. Please continue to keep Auston's family in your thoughts and prayers.
Come out Thursday and enjoy some of the sounds of the season!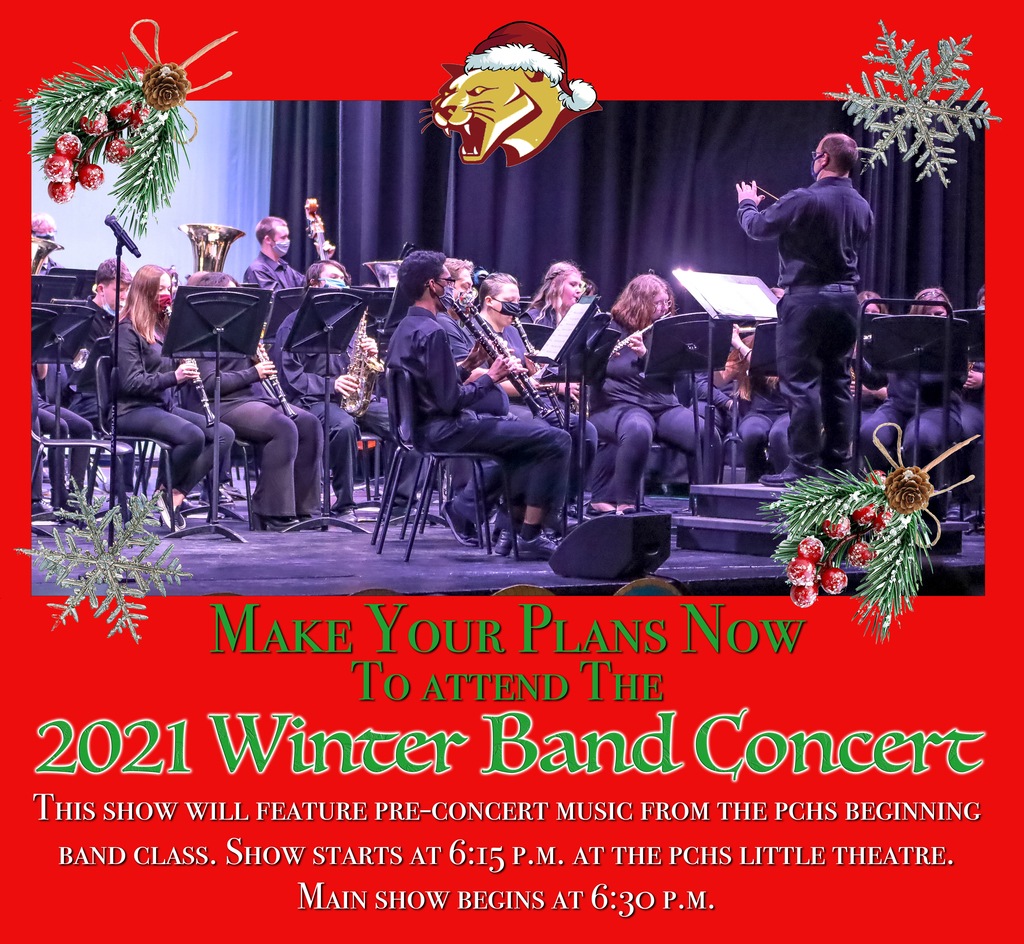 Pulaski County Public Schools are devastated to announce the passing of a kindergarten student from Critzer Elementary School. Details of the incident that led to their passing and the student's identity are not being released at this time. Extra staff and counselors have been made available to the schools this morning. We ask that you keep the family and friends of this student in your thoughts and prayers as they begin to process this terrible tragedy.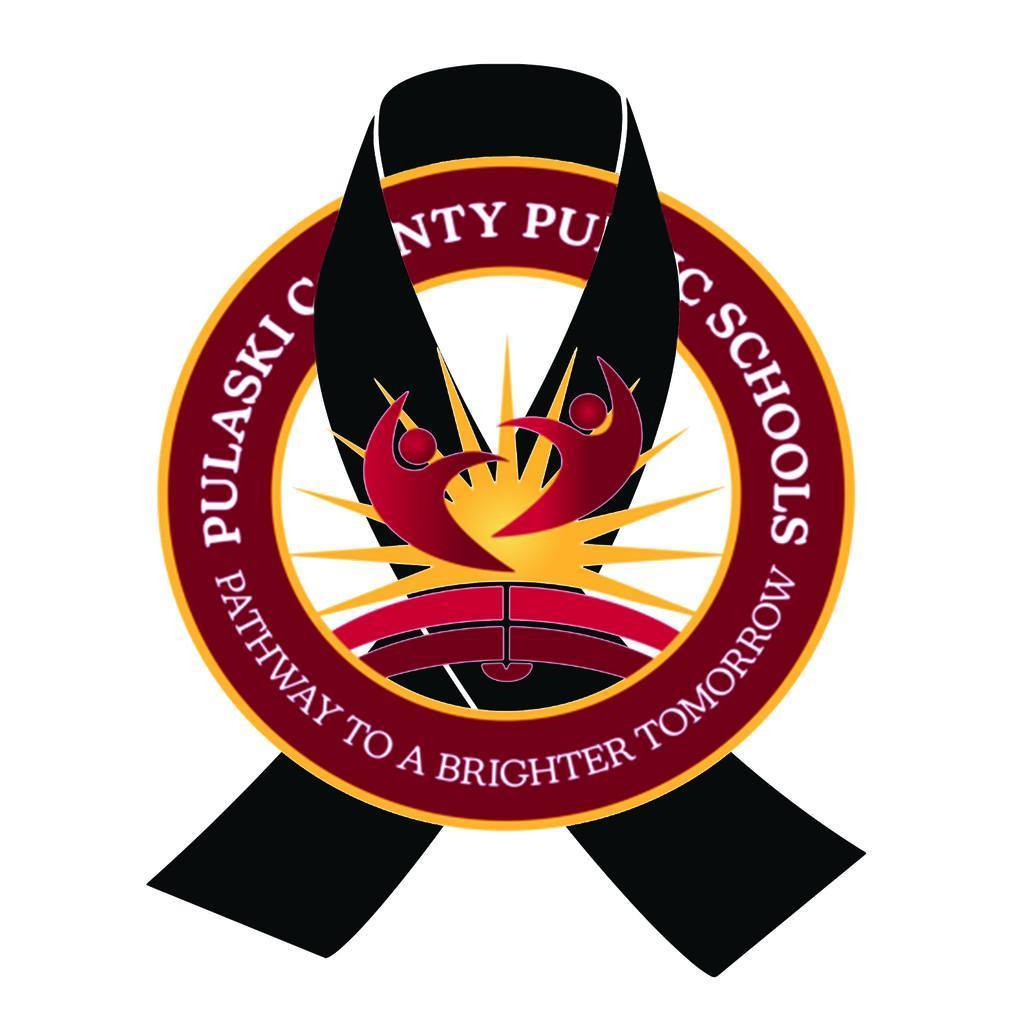 Congratulations to the following Cougar football players for their recognition on the All-River Ridge District and All-Region 4 teams.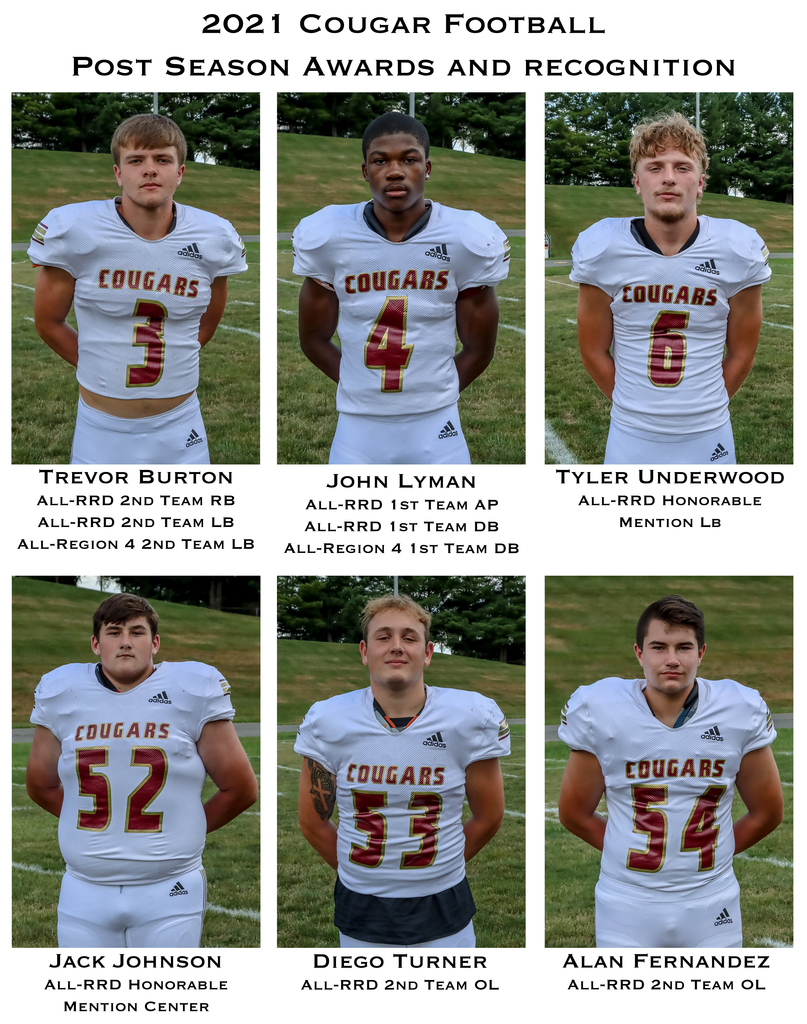 This is a reminder that tomorrow, Monday, December 6, 2021 is an asynchronous virtual day for all of Pulaski County Public Schools. Thank you.
The CTE/STEM program at Pulaski County High School offers students the chance to learn skills that allow them to leave high school ready for the workforce. Students also learn skills that prepare them for life after high school, as well as skills that allow them the opportunity to explore their creative sides. The Agriculture Program, led by Mrs. Carley Pavan-Ballard, is one of those classes. Recently the class has been hard at work creating Christmas decorations and making apple butter. The apples were collected from trees located on the PCHS campus along the Sensory Trail and then the apple butter was a combined effort with the Culinary Arts Program. The greenery used in the decorations was collected from the trees that were cut down to make way for new construction on the backside of the PCHS campus. The ideas for the ornaments and decorations came from the students. Ag students will now take these items and offer them for sale at the first ever Pulaski County Winterfest, scheduled for Saturday, December 4, at Randolph Park. The event will run from noon to 6 p.m. and will feature Christmas trees, wreaths and tons of other offerings from local vendors. Visitors to the event can also pay a visit to Santa Claus, who came into town yesterday for the Pulaski Jaycees Christmas Parade.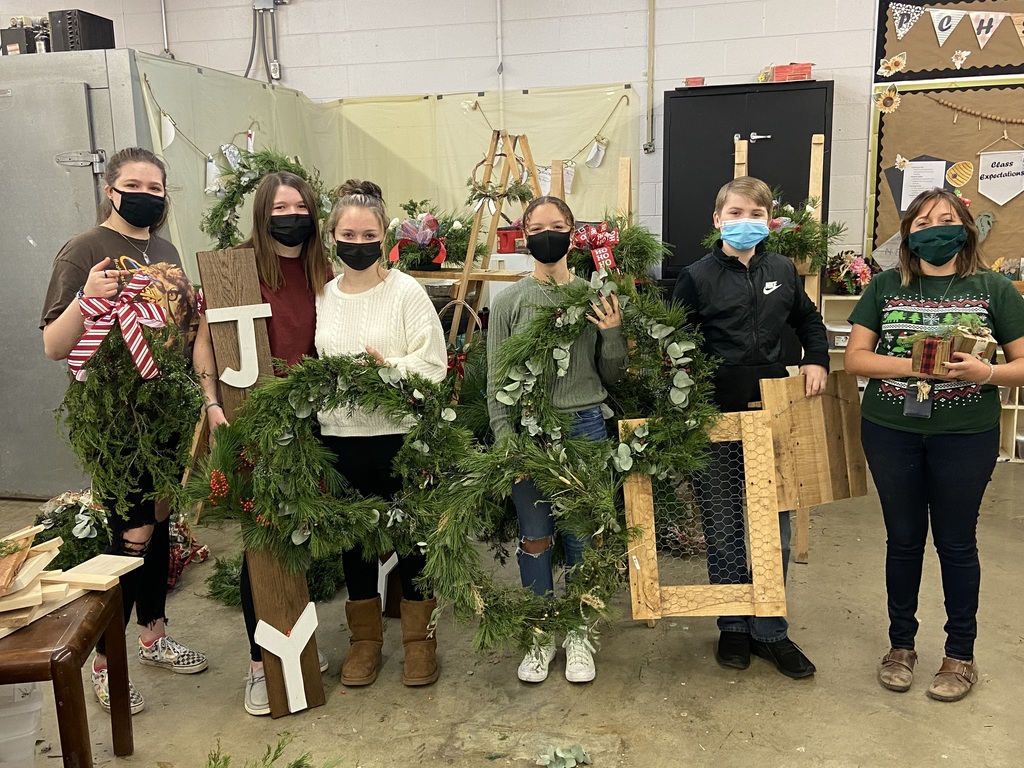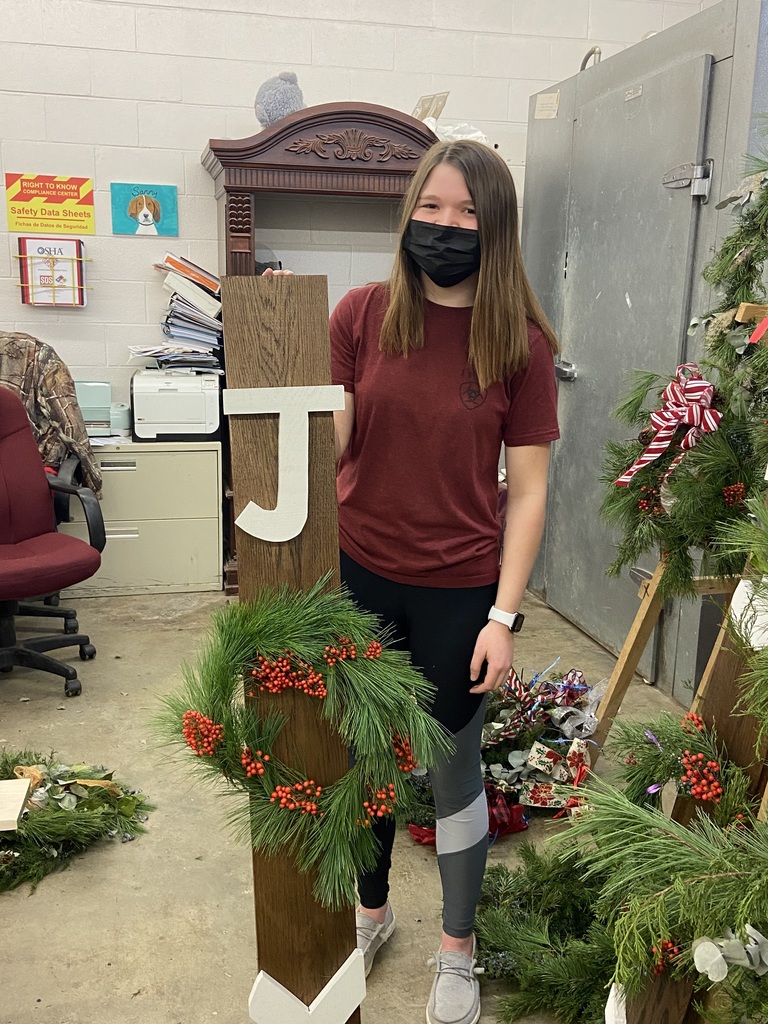 The CTE/STEM program at Pulaski County High School offers students the chance to learn skills that allow them to leave high school ready for the workforce. In some of those programs, students can earn state licenses or certifications that will dramatically increase their starting wages. One of those programs is the welding program, led by Mr. Bobby Petty. With Christmas upon us, his class has been involved in several projects, including one where they are welding snowflakes out of horseshoe nails. Seen here with Mr. Petty are junior Danielle Bolling and senior Darius Conner with some of their finished products. Be sure to tune in to the 6 p.m. news tonight on WDBJ7 as reporter Janay Reece paid the class a visit earlier this morning.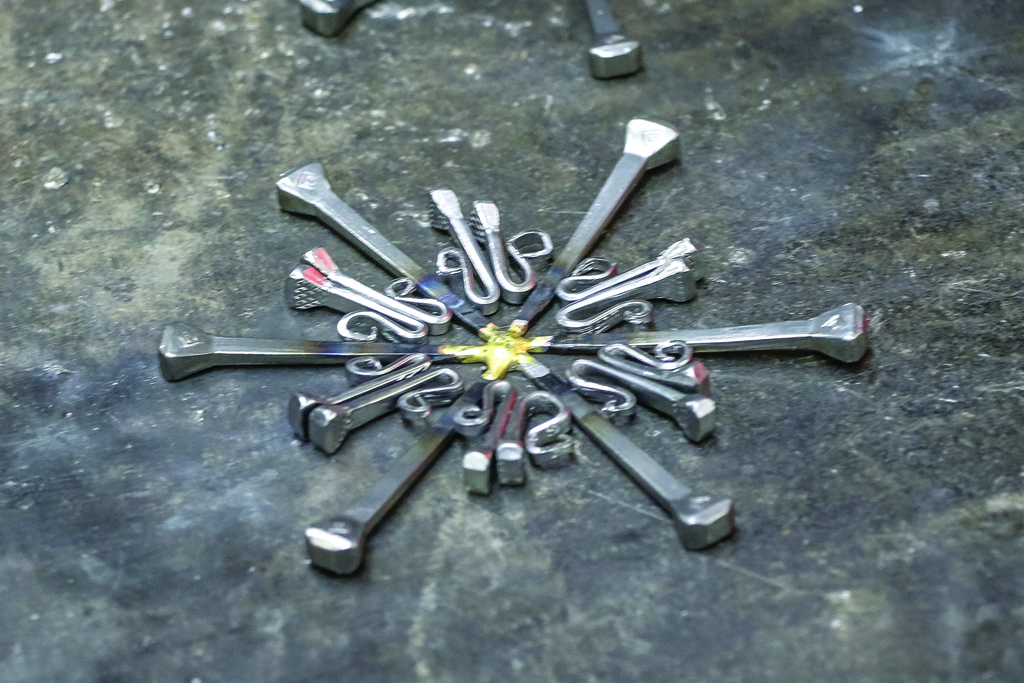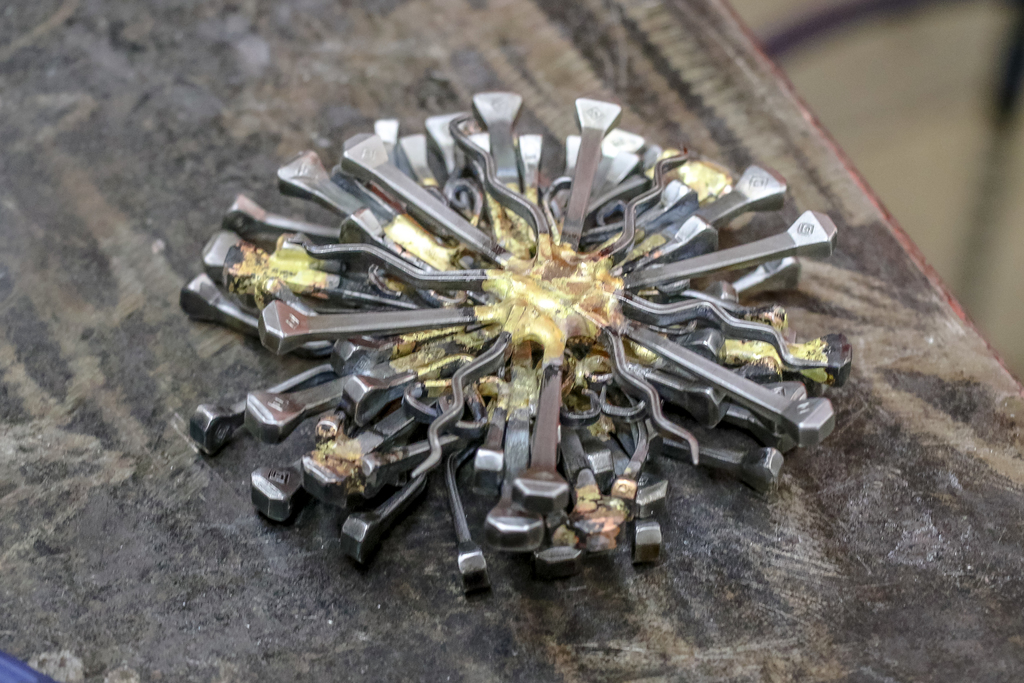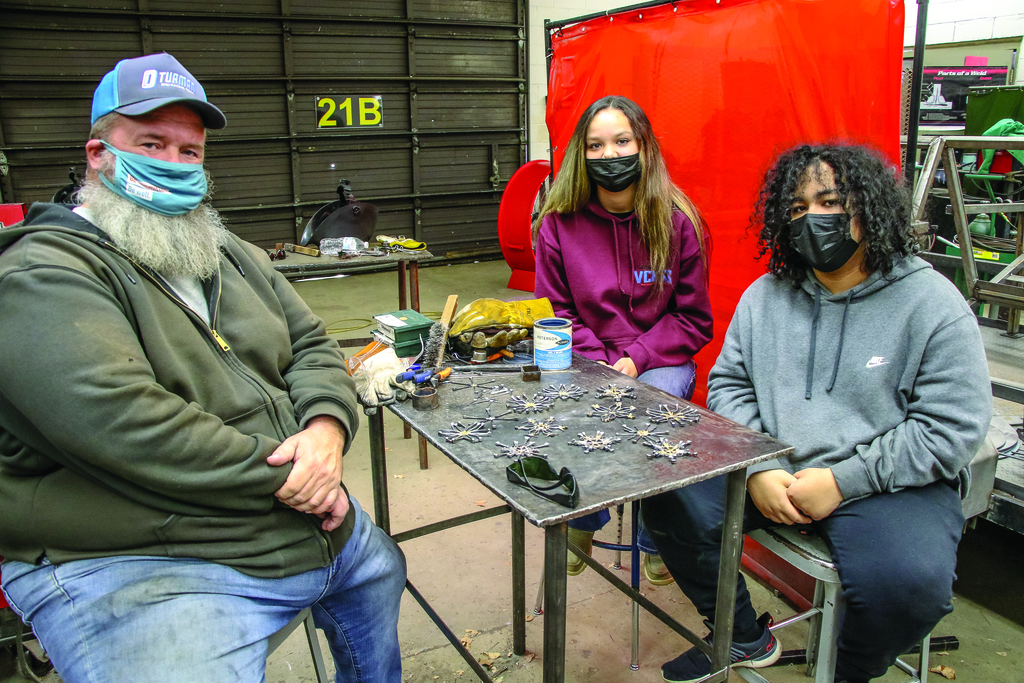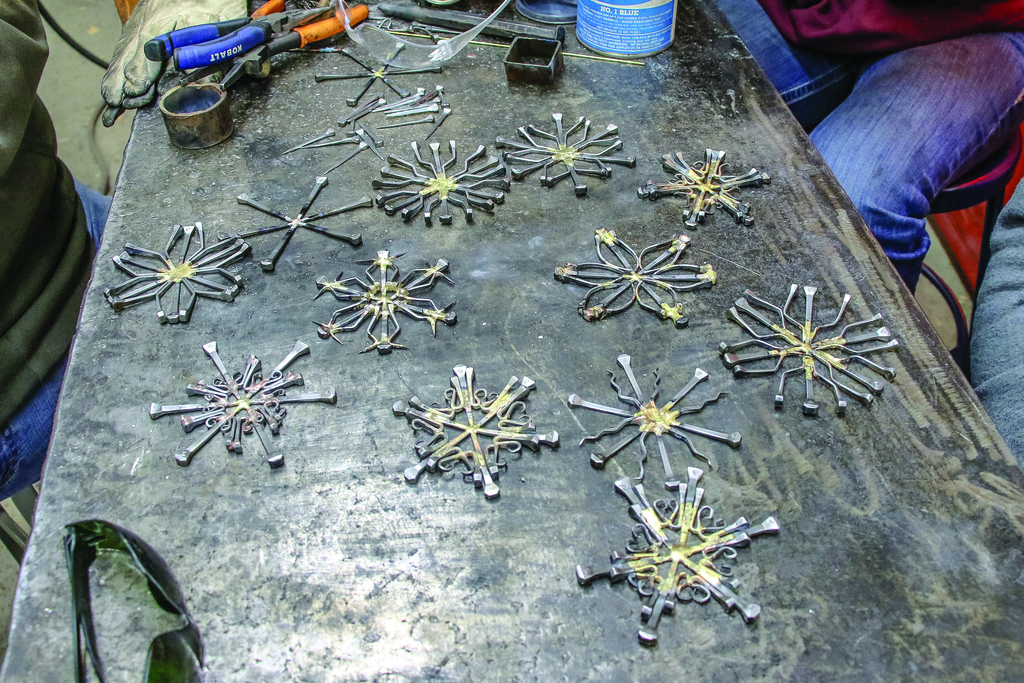 The PCHS JV Lady Cougar basketball team has been rock solid for several years. The 2017-18 season ended with a record of 22-0. In the 2018-19 season, the JV squad lost one game. It was the season opener against Carroll County and the team only had five players. The next day, several key eighth graders moved up and the team finished out the season with 21 straight wins to finish 21-1. The 2019-20 season saw them drop two games to a very strong Salem JV squad, but they ended the season 15-2. Last year, the JV squad finished 7-0 in the COVID season. Tuesday, they opened the season with a commanding 48-19 victory over Abingdon. That means that over the course of the past four seasons, JV girls basketball has a record of 65-3, plus the win from Tuesday. Meanwhile, our Lady Cougar varsity squad has earned a trip to the state title game in two of the past three seasons. Will this be the year? Time will tell.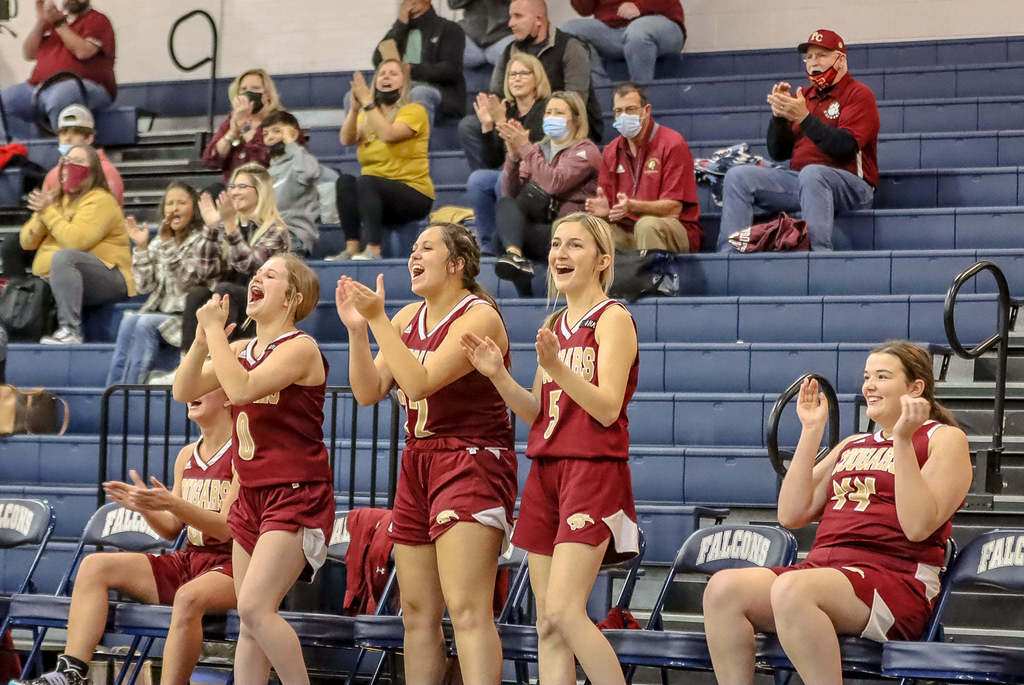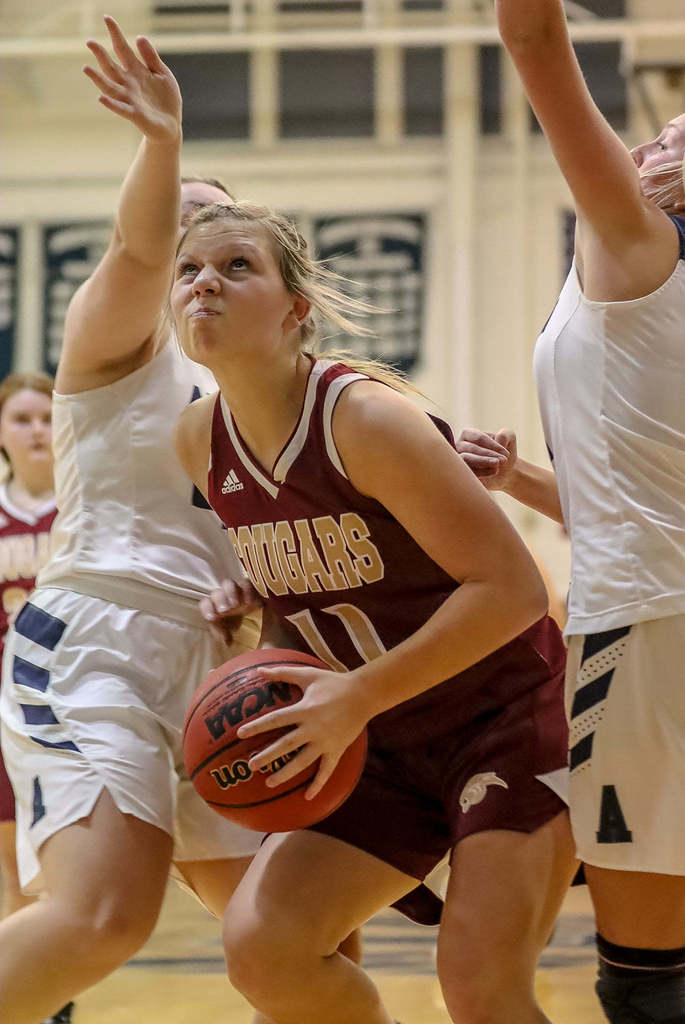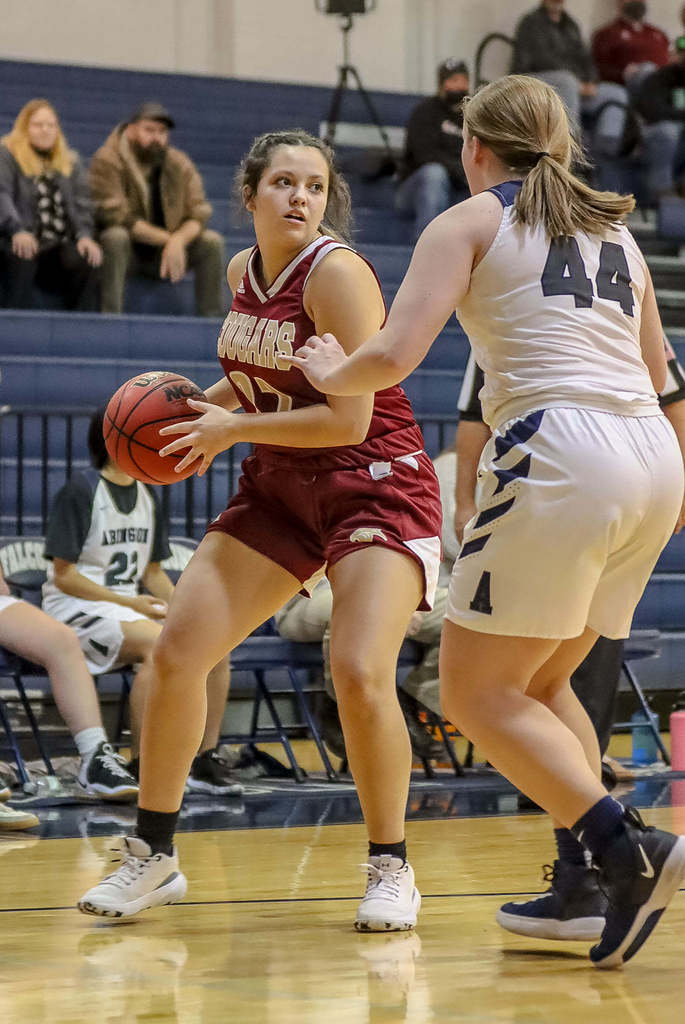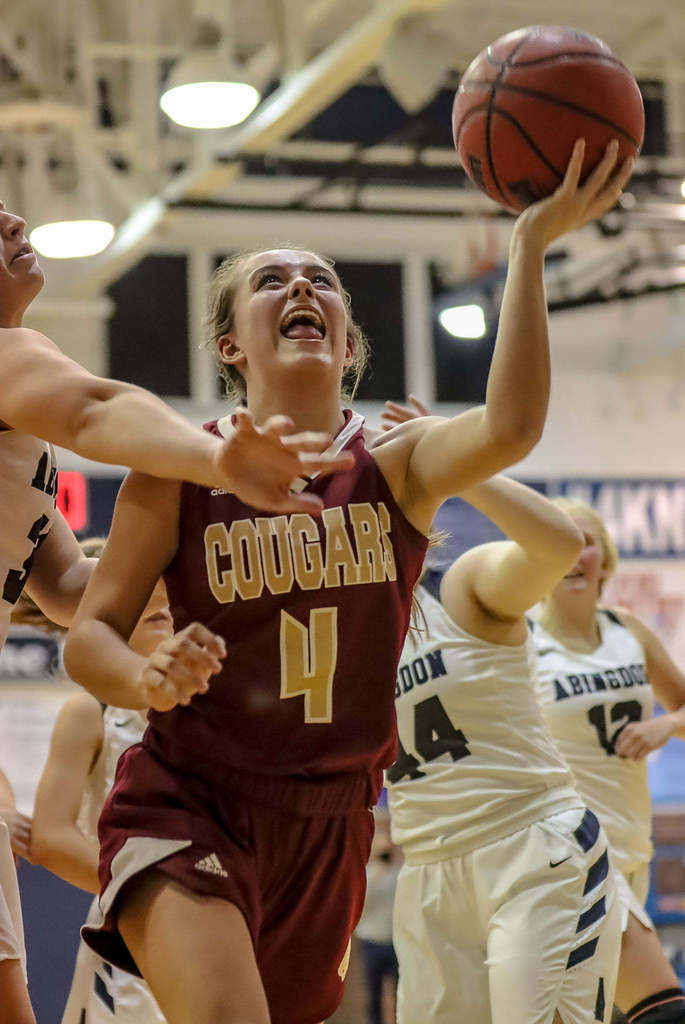 Thursday, November 18, the Culinary Arts II and Culinary Specialization classes visited the Virginia Western Community College Culinary Department in Roanoke. The tour was led by Chef James Zeisler, Program Head, Culinary Arts. The department is housed in the renovated historical Lincoln theater, located near Center in the Square. Much of the original building is still intact, as it was an important anchor in the Gainsboro African American neighborhood. Duke Ellington appeared at this theater in the 1920's. Virginia Western invested $6 million in the new kitchens. Included is high tech kitchen equipment, computerized cameras to allow for close up demonstration as well as a refrigerated room dedicated to meat fabricating and instruction. There is a specific classroom for artisan bread making as well chocolate, since both require temperature and humidity control. There is a Euro kitchen influenced by the European style, where all cooking stations are designed around a central island. All the main kitchens are connected through pantries and storage rooms. The curriculum offers both degrees as well as multiple certification programs. Students could get a degree in culinary arts, baking and pastry, or hospitality for hotel management. At the conclusion of the tour, the students were invited to create their own pizza.